CSC News
October 14, 2011
CSC Undergrad Squares Off with IBM's Watson!
A North Carolina State University computer science student squared off against IBM's Watson computer Sept. 28, as part of an event celebrating the company's 100th anniversary.
The event, which featured a presentation by Ginni Rometty, IBM's senior vice president and group executive for sales, marketing and strategy, concluded with a brief "Jeopardy!"-like demonstration by Watson.
Rometty spoke to an audience of nearly 250 students, discussing "Lessons from IBM's Century of Innovation, Technology and Collaboration" as seen from an industry perspective. She focused on the culture of analytics and touched on topics ranging from the growing world population to evolving economies. Rometty also provided points for students to consider while preparing to launch their careers, such as asking about a company's values during an interview.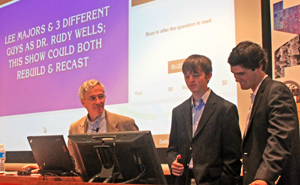 Eric Whitmire
(at center in photo), a sophomore double majoring in biomedical engineering and computer science, and Poole College of Management student Kyle Hartman participated in the Watson demonstration.
Watson, which is capable of answering questions posed in natural language, competed on "Jeopardy!" in February in the show's only human-versus-machine match-up to date. Watson beat Brad Rutter, the show's all-time money leader, and Ken Jennings, who holds the longest winning streak in the show's history.
A Wilmington, NC, native, Whitmire is a Park Scholar and an Engineering Ambassador. He is also a member of the Engineers' Council. He hopes to pursue a research career in cognitive science.
~wilson~
Return To News Homepage