CSC News
October 11, 2011
Anton Named One of the 2011 "eHow Shift 100"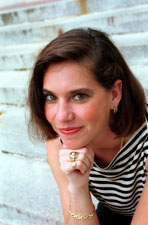 Congratulations to NC State Computer Science professor Dr. Annie Antón on being named to the 2011 Edition of the eHow Shift 100. eHow, an online how-to guide with more than 1 million articles and 170,000 videos offering step-by-step instructions, has recognized 100 women as the 2011 "Women of Shift: a selection of 100 real women who are living their passions, embracing their interests, and overcoming obstacles by discovering the expert within."
Antón's entry on the eHow website says, "A computer science professor at North Carolina State, Annie has developed ways to help keep private date secure. She's testified before Congress about her privacy concerns with the E-Verify system, and has founded ThePrivacyPlace.org."
Antón is joined on the eHow 100 list by women of varying backgrounds and careers including: Bethenny Frankel (media personality, healthy chef, author), Jennifer Lopez (entertainment mogul, designer, diva), Joan Lunden (TV host, author, serial entrepreneur), Rachel Maddow (political commentator, TV host), Elizabeth Smart (abduction survivor, spokesperson, activist), and Alice Waters (chef, restauranteur, organic nutrition activist). See eHow Shift for the complete list.
According to the eHow website, eHow.com is "an online resource with more than 30 categories that cover just about everything… a one-stop online resource for life's challenges. Professionals in every field come together to offer expert advice, backed by the additional support of a can-do eHow community…" To see more, visit eHow.
~coates~
Return To News Homepage