CSC News
October 05, 2011
NC State to Host Homeland Security Cyber Citizen Forum on Oct. 12

Cyber security is everyone's responsibility, including yours.
Igniting a spirit of shared responsibility for Internet safety is the underlying purpose of the Stop.Think.Connect. Campaign sponsored by the U.S. Department of Homeland Security. This national awareness effort seeks to challenge the American public to be more vigilant about practicing safe online habits.
This October, during National Cyber Security Awareness Month, the Office of Information Technology (OIT) and the Department of Computer Science will join the campaign and host a Stop.Think.Connect. Cyber Citizen Forum on Wednesday, Oct. 12 from 5 p.m. to 7 p.m. in Nelson Hall Auditorium (campus map). The forum is free and open to the general public. A reception will follow the event.
"We are very excited about the Stop.Think.Connect. forum as it will provide much needed information for a more secure Internet experience," says Mardecia Bell, director of OIT Security and Compliance. "Consumer use of the Internet has increased significantly and so have malicious malware, viruses and other online threats. It is crucial for campus users to stop to think before they connect online to better protect their personal information and the university's data. The forum will help us increase this awareness in a variety of ways."
Cyber Citizen Forums are signature programs of the Stop.Think.Connect. Campaign. The goal of Cyber Citizen Forums is to initiate dialogue about daily online habits and protection from the four main issues affecting people online: cyberbullying, cyber predators, identity theft, and fraud and phishing.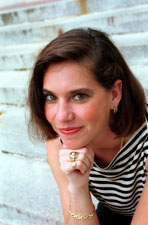 Kelvin Coleman
, director of State, Local and Tribal Engagement in the Department of Homeland Security's National Cyber Security Division, will deliver the forum's keynote address, "Understanding Cyber Threats for Increased Safety and Security Online." Emphasizing cyber security, NC State computer science professor Dr. Annie Antón (pictured at right), an

internationally recognized expert on compliance, privacy and policy in software systems,

director of ThePrivacyPlace.Org and director of the CSC Policy and Compliance Initiative, will present "

Protecting Your Privacy When Online.

" Dan Eckert, an NC State computer science student and chief technical officer of the e-publishing startup company DiscoverLit, also will speak about "Ten Dangerous Things To Avoid Online." Dr. Mladen Vouk, head of the NC State computer science department and associate vice provost for information technology at NC State, will provide closing remarks.
More National Cyber Security Awareness Month Activities
:
During National Cyber Security Awareness Month, the Office of Information Technology (OIT) will sponsor several security workshops. National Cyber Security Awareness Month is an annual effort organized by the
U.S. Department of Homeland Security
and the
National Cyber Security Alliance
"to increase the awareness and prevention of online security problems." Events include:
·
Computer Security for Real People
10/18/2011 Noon to 1 p.m. Talley Student Center Room 4106

Come learn about some free security tools you can use to keep your PC from being the easiest one to steal. Topics for this presentation include laptop tracking software, privacy and social networks, modern malware, trojans and phishing.


·
Securing Your Mobile Device

10/28/2011 Noon to 1 p.m. Talley Student Center Room 4111

Mobile devices provide you with on-the-go access to your email, various documents and numerous applications. However, these activities have their own set of security risks including online data theft and malware! This presentation will show you how to make your mobile device, and thus your activities, more secure by using device passwords, tracking software, encrypting devices, anti-malware software, and more!
~###~
Return To News Homepage