CSC News
September 18, 2011
Anjum Receives Phi Kappa Phi 'Love of Learning' Award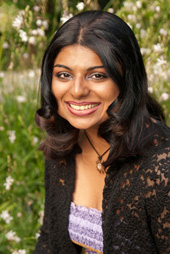 Bushra Anjum
, a PhD student in the NC State Department of Computer Science, has been selected to receive a 2011 Phi Kappa Phi "Love of Learning" Award. She was selected based on her "superior academic record and life/career ambitions."
Love of Learning Awards help fund post-baccalaureate studies and/or career development for active Phi Kappa Phi members to include (but not limited to): graduate or professional studies, doctoral dissertations, continuing education, career development, travel related to teaching/studies, etc. Eighty awards of $500 will be presented.
"It is a huge honor indeed, to be selected from a nationwide pool of graduate students for this award," said Anjum. "Academia is a passion of mine; I enjoy learning and I love to teach! I am proud to be a part of the honor society of Phi Kappa Phi which encourages and appreciates academic commitment. I am especially thankful to my PhD advisor, Dr. Harry Perros, and the Director of Graduate Programs, Dr. Douglas Reeves, for encouraging me to join the Phi Kappa Phi society when I received the initial membership invitation."
Anjum was one of only 80 recipients out of over 1,800 applicants. There were two other winners from NC State: William Badger, who earned his MS in Creative Writing in 2011, and Katie Taylor, a junior majoring in Chemistry.
Phi Kappa Phi, which was founded in 1897 at the University of Maine, is the nation's oldest, largest, and most selective collegiate honor society for all academic disciplines. Its chapters are on more than 300 campuses in the United States, Puerto Rico, and the Philippines. Membership is by invitation only and is offered to the top 10% of graduate students securing a 4.0 GPA..
For more information on the Love of Learning Award and a complete list of the winners, click here.
~coates~
Return To News Homepage