CSC News
August 09, 2011
White House Names Park Scholar Brian Ferris a Champion of Change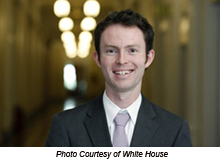 Brian Ferris '03
was one of a select group of Americans to be named a Champion of Change in the area of technology and innovation by the White House. Ferris received this recognition for his work with open-source software and public transportation systems.
Ferris and his colleague David Emory worked with the Tri-County Metropolitan Transportation District of Portland to develop a multi-modal trip planner. The open-source planner is continually being enhanced by transit agencies around the globe.
The Champions of Change series profiles the lives of Americans who are playing a role in helping the United States rise to the challenges of the 21st century. "The White House is proud to feature these stories of Americans who are doing extraordinary things in their communities to out-innovate, out-educate, and out-build the rest of the world," says Valerie Jarrett, senior advisor to President Barack Obama.
Ferris recently completed his Ph.D. in computer science and engineering at the University of Washington. As a doctoral student, he worked with civil engineering graduate student Kari Watkins to develop OneBusAway, a tool to provide schedules and real-time arrival information for buses and trains. OneBusAway was supported, in part, by the National Science Foundation and Nokia Research.
While at NC State, Ferris majored in computer engineering and computer science. He was a member of Phi Kappa Phi, Phi Beta Kappa, and the Golden Chain Society. Ferris served as editor-in-chief for Americana, a university online magazine, and created and taught a new course in the computer science department. He volunteered in the community by tutoring home-schooled children in mathematics. Ferris was raised in New Hill, North Carolina and attended Apex High School.
For more information on Ferris' honor, click here.
~###~
Return To News Homepage