CSC News
August 03, 2011
Strachan Named to 2010-11 ACC Academic Honor Roll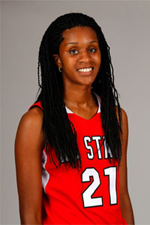 Congratulations to
Brittany Strachan
, a 2011 graduate of the NC State University Computer Science department,
who has been named to the
Atlantic Coast Conference Academic Honor Roll for the 2010-2011 season
. This is the fourth consecutive season that Strachan has earned a place on the honor roll.
Eight NC State women's basketball players were named to the honor roll for the 2010-2011 season – a program record. Team members Kody Burke, Kim Durham, Hanna Halteman, Marissa Kastanek, Brittany Stachan, Emili Tasler, Amber White and Paige Woodard each registered a grade point average of 3.00 or better last school year.
With eight players named to the honor roll, NC State ranks second in the 12-team ACC. The previous program record was set back in 1997 and 2009. The Wolfpack women have been recognized 107 times on the honor roll dating back to 1983.
Strachan also earned the ACC Weaver-James-Corrigan Award for postgraduate study, and was nominated for a NCAA postgraduate scholarship and the ACC Scholar Award. She was selected to the Capital One second team Academic All-District women's basketball team as well. She will be continuing her studies at NC State this fall pursuing a Masters Degree in Computer Science.
~coates~
Return To News Homepage