CSC News
June 01, 2011
Xiao Receives Award for Innovative Use of Microsoft Technology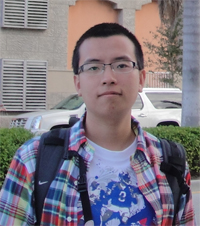 Xusheng Xiao, a doctoral student in the NC State Department of Computer Science, was selected to participate in the ACM Student Research Competition (SRC) hosted in the International Conference of Software Engineering (ICSE) 2011 in Honolulu, Hawaii May 21-28. He received a special award for "Best Project Representing an Innovative Use of Microsoft Technology".
This competition offered undergraduate and graduate students a unique forum to experience the research world, present their research results to conference attendees, and compete for prizes. Students who are selected to participate in the main competition round at the ICSE conference are entitled to a stipend for their travel expenses, up to a maximum of $500.
In the competition, the judges awarded Xusheng Xiao's project "Problem Identification for Structural Test Generation: First Step Towards Cooperative Developer Testing" a special prize for the best project representing an innovative use of Microsoft technology ($200). Xusheng's project is built upon Pex, an automated white box testing tool for .NET produced by Microsoft Research.
For more information on Xiao's project, click here.

For more information on Microsoft Research Pex, click here.
For more information on the ACM SRC hosted at ICSE 2011, click here.
Return To News Homepage