CSC News
May 18, 2011
Young Selected to Attend CRA-W Career Mentoring Workshop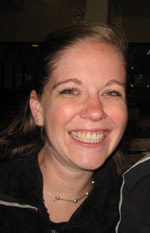 Jessica Young, a doctoral student in the NC State Department of Computer Science, has been selected to receive travel support for the CRA-W Career Mentoring Workshop at the Federated Computing Research Conference (FCRC 2011) to be held on June 4-5, 2011 in San Jose, CA. The $1,200 travel award can be applied toward airfare, ground transportation, lodging, registration fees and meals.
The goal of the Career Mentoring Workshop is to provide mentoring activities targeting women senior graduate students and women just starting as industrial researchers or professors. The workshop is structured to provide critical information about the culture of and content required for professional research, and contacts with successful role models and mentors.
For more information on the Career Mentoring Workshop,
click here
.
Return To News Homepage