CSC News
May 16, 2011
Department Confers 180 Degrees During Spring Diploma Ceremony

The NC State Department of Computer Science conferred 180 degrees during the Spring Diploma Ceremony on May 13, 2011. More than 1,100 relatives and guests celebrated with our graduates, faculty and staff during our ceremony held at Hope Community Church in Raleigh.
This graduating class included 12 Ph.D., 91 M.S., and 77 B.S. degrees expanding the department's alumni base to over 6,400.
The undergraduate class included four Valedictorians (perfect 4.0 GPA), Shengyen Tony Chen, Trevor Ryan Hardy, Troy Zachary Muma and John H. Sprinkle; one Park Scholar, John H. Sprinkle; three Computer Science Honors Program participants, Edward H. Anderson, III, David R. Crook, and Trevor Ryan Hardy; one University Honors Program participant, Jeffrey Robert Vohlers; two University Scholars, Trevor Ryan Hardy and Sonya Kumar Kori; and numerous members of a variety of scholastic honor societies. The top employers for this semester's undergraduate students are Fidelity Investments, Cisco Systems and NetApp.
Dr. Mladen Vouk
, department head, professor, and Associate Vice Provost for Information Technology, congratulated the graduates on their accomplishments. He cited recent projections of growth in career opportunities in the IT and computer science industries.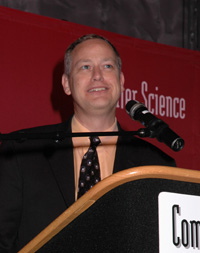 We were honored to have alumnus Kristopher Tyra (B.S. '86), Director of User Experience Development at Deutsche Bank Global Technology Inc., serve as our keynote speaker. Tyra heads up an entrepreneurial team charged with designing and creating highly desirable and efficient User Interfaces for Deutsche Bank applications worldwide. Tyra's career represents more than 20 years of experience in executive management and technology development for multi-million dollar software companies. His solid technology background includes breakthrough innovations in mobile technologies and software engineering tools.
Tyra told the graduates that software entrepreneurs have the desire to adapt, and to change the game. Therefore, software entrepreneurs have the potential to transform the past into the future. He said looking back over this time at NC State and his career, he's learned that that's the part that's so exciting – unlocking potential and using his experience to change the game. He asked the graduates, once they've transformed their potential into experience, to return to NC State and impart their experience onto the next generation.
Hope Community Church provided a wonderful setting for the department's diploma ceremony, with comfortable accommodations and professional AV capabilities. DVDs of the ceremony are available for a nominal processing fee (click here for order form). Additionally, a professional photographer took photos of each graduate as he/she received his/her diploma. For more information, please contact the photographer.
Special entertainment during the ceremony was provided by local musician, Karl Moraski.
Our special thanks go to SAS, the NC State Engineering Foundation, and our ePartners Program for their generous sponsorship of this event.
Return To News Homepage