CSC News
May 13, 2011
Department Recognizes 2011 Outstanding Computer Science Seniors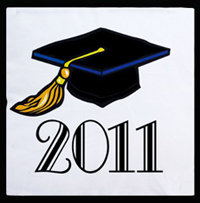 Each year, the NC State College of Engineering recognizes students for their outstanding performance beyond academic achievement with Outstanding Senior Awards. Four Computer Science students were recognized during an awards ceremony on May 3, 2011.
Winners of the 2011 Computer Science Outstanding Senior Awards are:
Trevor Ryan Hardy
- the Scholarly Achievement Award. Trevor, who also minored in Spanish, is a student who excels both inside and outside the classroom. He is a recipient of the Chancellor's Leadership Scholarship, and has completed the Computer Science Honors Program and the University Scholars Program. His high academic achievement in Computer Science gained him admission to the Accelerated Bachelor/Master Program in Computer Science. He has worked as a summer intern at Cisco Systems, and has distinguished himself in the workplace as well as in academia.
Brittany M. Strachan
– the Citizenship and Service Award. Since fall 2007, Brittany has been a member of the NC State Women's Varsity Basketball Team and is the 2010-2011 team captain. A true scholar-athlete, Brittany is a three-time Caterpillar Scholar Athlete, was named three times to the ACC Academic Honor Roll, is a two-time recipient of the Arthur Ashe Jr. Sports Scholar Award, and has been named twice to the All-ACC Academic Team. Brittany is also a 2011 recipient of the Weaver-James-Carter ACC Postgraduate Scholarship. She has been accepted to the Master of Computer Science Program at NC State, and will begin that program in August 2011. Brittany is the president of Sisters in Sports and is an active participant in a wide range of service programs, with a focus on encouraging elementary and middle school students to read and stay physically active. Brittany is featured on the Computer Science Department's Future Students website, an outreach effort aimed at high school students to show how computer science graduates are making a real difference in the world in a socially relevant way. She is also an active participant in the Minority Engineering Program, Wolfpack Blitz, and Booking with the Pack.
Edward H. Anderson III
- the Leadership Award. Ed has achieved academic excellence in Computer Science, and is a recipient of the Department of Foreign Languages and Literature's Outstanding Achievement Award in Chinese. He has participated in numerous internships, including an IBM Extreme Blue Internship during the summer of 2009. Ed has been president of NC State's Linux Users Group (LUG) since 2008, and has transformed that student organization into an active group of students. Ed has also served as a student marshal at the Computer Science Diploma Ceremony numerous times, and has naturally stepped into the role of training new marshals. He is also active within his church, and has been a clerk and mission leader since 2008.
Carlyle James Licata
- the Humanities Award. Carl is a Ben Franklin Scholar who is also majoring in International Studies with a focus on East and Southeast Asia. He is also pursuing minors in Chinese Studies and Cognitive Science. An undergraduate research assistant with the IntelliMedia Group since 2009, Carl is co-author of two scholarly articles in the area of machine learning. He has participated in technical internships with SAS (both in Cary, North Carolina and in Beijing, China), as well as Northrop Grumman and ReverbNation. Carl is a member of Phi Beta Kappa and has studied abroad at Zhejiang University in Hangzhou, China. He is a founding member of the NC State International Studies Club and serves as webmaster for the organization. He is also an active member of the Ben Franklin Scholars program, having served at various times as cohort representative, webmaster and vice president.
Congratulations to these outstanding students! We take great pride in them as they serve as tremendous representatives of the department and great role models for our student body.
Return To News Homepage