CSC News
May 12, 2011
Neelakantan Receives Graduate Industrial Traineeship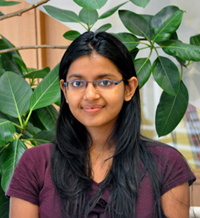 Congratulations to Aishwarya Neelakantan, a Master's Degree student in the NC State Computer Science Department, on receiving a Graduate Industrial Traineeship (GIT) at SAS.
Through the Traineeship, Neelakantan will provide research and analysis including research, generation, testing, and documentation of operations research software. The value of the Traineeship is over $39,850.
The NC State Graduate Industrial Trainee program is a partnership with industry for the purpose of broadening graduate education to include a mentored, first-hand experience in practice. This is accomplished by placing interested graduate students in trainee positions at partner organizations. Unlike traditional cooperative education programs and internships, GIT students serve throughout the academic year, and over the summer, while remaining full-time students and completing their degree programs on time.
Return To News Homepage