CSC News
May 12, 2011
Poulos CSC Nominee for Faculty Senior Scholarship Award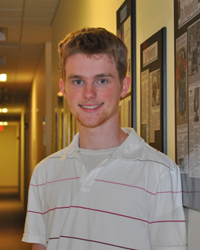 Congratulations to Alex Poulos, a senior majoring in computer science at NC State University, for being named the Computer Science Department nominee for the College of Engineering Faculty Senior Scholarship Award.
The Faculty Senior Scholarship Award is one of the most prestigious undergraduate awards in the College of Engineering. Each year, every department in the College nominates one candidate to compete for the award. The nomination itself is an important recognition of a student's outstanding academic, extra-curricular, and community achievements.
Poulos is a Computer Science Department Student of Distinction and a University Scholar. He is a member of the Upsilon Pi Epsilon International Honor Society, a leader in the Chi Alpha Christian Fellowship, and vice president of Ratio Christi. He is currently a co-op student in software development at IBM.
After graduation, Poulos hopes to pursue graduate studies in Religious Studies, which will culminate in a PhD. He is particularly interested in early Christianity, and the medieval Byzantine history. He hopes to teach and perform research, using computers to help unravel some of the more perplexing textual traditions in Early Christianity.
Please join us in congratulating Mr. Poulos on this outstanding honor within the department.
Return To News Homepage