CSC News
May 12, 2011
Department to Participate in World IPv6 Day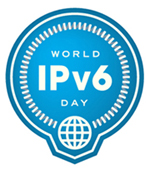 On June 8, 2011, the NC State Computer Science Department will participate in World IPv6 Day, a global-scale trial of the new Internet Protocol version 6 (IPv6), sponsored by the Internet Society. IPv6 is a version of Internet Protocol that is designed to succeed version 4, as IPv4 space runs out. On June 8, participants will enable IPv6 on their main services for 24 hours.
The CSC Web site will be among some major organizations, including Facebook, Google, and Yahoo, who will participate. The goal of this test is to motivate organizations across the industry - Internet service providers, hardware makers, operating system vendors, and institutions - to prepare their services for IPv6 to ensure a successful transition as IPv4 addresses run out.
IPv4 has approximately four billion IP addresses (the sequence of numbers assigned to each Internet-connected device). The explosion in the number of people, devices and web services on the Internet means that IPv4 is running out of space. IPv6, the next-generation Internet protocol, which provides over four billion times more space, will connect the billions of people not connected today and will help ensure the Internet can continue its current growth rate.
For more information about the Internet Society, click here.
Return To News Homepage