CSC News
May 04, 2011
Tyra to Speak at 2011 Spring Diploma Ceremony on May 13th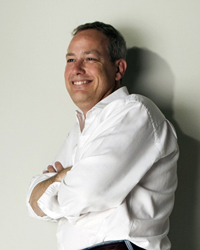 The NC State University Computer Science Department will hold its spring diploma ceremony on Friday, May 13 at 7 p.m. in the main sanctuary at Hope Community Church, located at 821 Buck Jones Road, Raleigh (directions).
Alumnus Kristopher Tyra (BS '86) will provide the keynote address. He currently serves as Director of User Experience Development at Deutsche Bank Global Technology Inc., where he heads up an entrepreneurial team charged with designing and creating highly desirable and efficient User Interfaces for Deutsche Bank applications world wide.
Tyra's career represents more than 20 years of experience in executive management and technology development for multi-million dollar software companies. His solid technology background includes breakthrough innovations in mobile technologies and software engineering tools.
Prior to his role at Deutsche Bank, Tyra has held executive positions in a number of software startups as well as software giant Microsoft. As chief technical officer and chairman for Hiddenmind Technology, Inc., Tyra provided overall vision for the company attracting top investors. A major success was his negotiation of the merger between HiddenMind and publicly traded Infowave, Inc.
Tyra earned his Bachelor of Science degree in Computer Science from NC State University in 1986. He has served on the Arts NC STATE Board of Advisors and the NC State Computer Science Strategic Advisory Board.
Approximately 165 graduates are expected to receive their degrees during the May 13th ceremony.
Our special thanks go to SAS, the NC State Engineering Foundation, and the ePartners Program for their generous sponsorship of this event.
For the convenience of guests who might require overnight accommodations, there are a number of hotels located in the immediate area. For more information, click here.
NOTE TO GRADUATES
: There are several ways to commemorate this special occasion. As each graduate is handed his/her diploma, a professional photographer will take his/her picture. A free color proof will be sent to each graduate's current mailing address, including a password for online viewing. There is no obligation to purchase prints. To receive email notification when photos are online, please visit www.photospecialties.com to pre-register. If a proof is not received within a week of the ceremony, please contact info@photospecialties.com or call 1-800-722-7033.
In addition, Hope Community Church provides professional AV capabilities allowing for live broadcast of the ceremony from multiple camera angles. DVDs of the ceremony are available for a nominal $25 processing fee (click here for order form).
Finally, we invite you to help us build the engineering "pathway to the future" by laying a personalized brick in honor of your graduation for the Engineering Building II (EB2) walkway. Each brick is $150, will hold three lines of text with up to 18 characters per line. Bricks will be installed in front of EB2 where they will become a permanent part of our history. To order your commemorative brick, please click here.
Return To News Homepage