CSC News
May 04, 2011
Game Time! NC State is fueling big-time growth in North Carolina's games industry.
NC State is fueling big-time growth in North Carolina's games industry.
Source – NC State Engineering, NC State Engineering Foundation and Engineering Communications, Spring 2011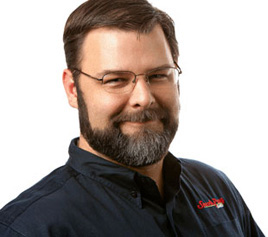 John O'Neill
builds video games for a living. And not just the games with heroes and villains (though he creates plenty of them), but also ones that promote brands, train employees and educate students.
O'Neill, the founder and president of Cary's three-year-old Spark Plug Games, is in many ways emblematic of the Triangle's burgeoning games industry. The area is home to dozens of gaming companies and one of the industry's premier conferences, and it's at the forefront of the "serious" game development that's become so important to the success of businesses and schools.
But O'Neill sees another key player in the region's games industry. It's his alma mater, NC State, which is driving industry growth by making important research advances, graduating talented, well-rounded students and creating programs that foster innovation in the field.
"I love how much NC State is doing right now to spur company growth and support new ideas," said O'Neill, a 1996 computer science graduate.
With help from NC State and its engineering and computer science alumni, the Triangle games industry has exploded over the past decade. Droves of companies have relocated, expanded or started up in the area, and today about 40 games companies employing as many as 1,500 people have operations in the region. They include the headquarters of industry giant Epic Games and many smaller firms like Spark Plug that are playing increasingly prominent roles in the growing game-development field.
The growth has come amidst unprecedented change in an industry that was once associated with teenagers punching away at Nintendo and Sega consoles in their parents' basements. Today, the average gamer in the US is close to 35 years old, a potent purchasing demographic, and the industry has expanded into serious games that range from military simulations to surgical training to children's educational software.
The Triangle, and NC State in particular, have been quick to capitalize on gaming's growing popularity, and Dr. R. Michael Young, associate professor of computer science and co-director of the proposed Digital Games Research Center (DGRC) at NC State, has been at the forefront of those efforts.
Young and others at NC State have worked with the business community to build a Raleigh game developers' conference into the premier event of its kind on the East Coast. Until this year, the event had been called the Triangle Game Conference, but it has grown so large that the third installment, in April, is called the East Coast Game Conference.
Young also sits on the board of the Triangle Game Initiative, which runs the conference and supported the establishment of new state incentives for gaming companies. The incentives, which began this year, provide companies with a 15 percent tax credit on compensation and wages for employees involved in digital media development and production.
The growth in gaming, and serious gaming in particular, has come about because video games are essentially learning machines, Young said. To succeed in Halo, Donkey Kong or any other game, players must learn rules, solve problems, reach goals, and understand how their actions affect the gaming environment. That's why schools, businesses and government agencies are increasingly incorporating games into their lessons and training programs.
"We engage with educational games the same way," Young said, "and so they have the same compelling learning potential as when you're playing a traditional game and learning how Mario jumps."
These serious games need skilled developers, and NC State faculty and students are filling those roles. Through a new game development concentration in computer science, which was recently ranked among the top 15 undergraduate video game design and development programs in the US and Canada by the Princeton Review, students can tailor their academic careers around gaming courses. As seniors, they can participate in a game design showcase that puts computer science and design students on a team. The task: Build the best game possible.
Collaborations like these mean students from different disciplines get experience with the entire game development process, said Tim Buie, co-director of the DGRC and an assistant professor of design at NC State. That's attractive to employers.
"Both sides get to see what kind of world the other lives in, and when they do that it stops becoming this unknown, arcane thing. That's the magic that occurs here," Buie said. "The students understand that they are part of a bigger process where the team depends on you and you depend on your teammates."
Last year's showcase featured Terraform, a game that teaches chemistry by placing players in a world where they need to solve chemical puzzles to create habitable conditions for humans. The game was a student-division finalist at a large gaming conference in Florida last fall.
Another educational game, Blackbeard's Escape, is based upon gathering artifacts from the site in North Carolina's Beaufort Inlet where the pirate's ship famously ran aground in the 18th century. After the game was released in 2009, it was promoted heavily by the NC Dept. of Cultural Resources as a way for young people to learn about an important chapter in the state's history.
Armed with these gaming experiences, NC State graduates are making their marks in the industry. One of the Terraform developers, computer science graduate Josh Fairhurst, has founded a company, Mighty Rabbit Studios, that now operates in the Joystick Labs gaming incubator program in Durham. He's developed a game based on 1980s Saturday morning cartoons for mobile devices, and a PC version is under development.
He credits Young, one of his NC State professors, with giving him the skills to succeed.
"He throws you in and forces you to learn the programs," Fairhurst said, "which is really important because now I use those skills in my company."
But NC State does more than feed top talent to the industry.
At the DGRC, housed in the Department of Computer Science, 15 researchers from four NC State colleges investigate the scientific, engineering, social and educational challenges of digital entertainment. The researchers collaborate on everything from the social impacts of mobile gaming to emerging 3D technologies to developing new ways to enhance learning through games.
The researchers are also trying to solve real-world problems. Young, along with other NC State colleagues, is developing a forensic science game called IC-CRIME that allows investigators to create virtual versions of a crime scene that can be analyzed long after investigators leave the area.
The work begins with a 3D scanner that logs fingerprints, hair samples and other evidence needed to solve the crime. Then detectives, prosecutors and others involved in the case, even if they're in different locations, can see the scene as the case works through the judicial system.
"They can discuss different theories for explaining how the crime scene gives clues as to what happened, even if the investigators are spread out across the world," Young said.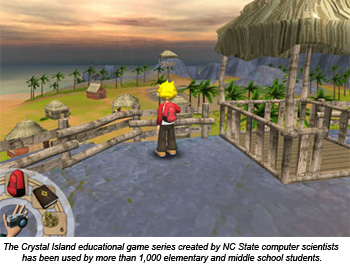 Another big push from NC State's serious games research efforts is in K-12 education. Attitudes towards games in the classroom have changed, and teachers have recognized that since students enjoy games so much outside school, they'll likely enjoy them in the classroom as well. Together with collaborators in NC State's College of Education and the Friday Institute for Educational Innovation, computer scientists are working to enhance learning through gaming.
"There's a recognition that students will spend their time on what's enjoyable," said Dr. James Lester, professor of computer science. "So if you create a learning environment that's engaging, then it's much more likely to hold their attention."
One game series developed by Lester's group, Crystal Island, has been used by more than 1,000 elementary-and middle-school students over the past several years. The games, derived from the North Carolina standard course of study, put players in an island setting where they have to navigate the landscape and solve problems or figure out what's causing an outbreak of disease.
Versions of the game are now being tested in Raleigh-area schools, including the Centennial Campus Middle School at NC State, and in schools in New Zealand and China. The games collect data on the players' decisions as students make their way through the levels, allowing researchers to see how different types of students are processing the information.
"We would never want these technologies to replace the teacher," Lester said, "but instead they can act in this augmenting capacity in which the teacher becomes more of an orchestrator of learning activities rather than a lecturer standing at the front of the room."
All these efforts draw a smile from O'Neill, the NC State alumnus whose company has produced 35 gaming and other applications over the past three years, including games for the iPhone, iPad and Nintendo Wii. The company has 10 full-time employees, and four of them are NC State graduates.
O'Neill hopes to hire more NC State graduates this year, efforts that will continue the Triangle gaming industry's growth. He knows those graduates will be qualified.
"Computers are fun, but it's not just about writing code," he said. "It's interpersonal communications, problem-solving, technical writing and other skills. I got those experiences at NC State, and I know they will too."
Return To News Homepage