CSC News
May 02, 2011
STARS SLC Receives Deborah S. Moore Service Award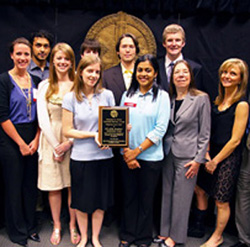 Congratulations to the NC State University Students & Technology in Academia, Research and Service (STARS) Student Leadership Corps (SLC) on receiving the 2010-2011 Deborah S. Moore Service Award for Outstanding Non-Service Club of the Year.
The Deborah S. Moore Service Awards recognize exemplary service and outstanding volunteerism by students and clubs, and they are presented by the Center for Student Leadership, Ethics and Public Service (CSLEPS).
The NC State STARS SLC is a student organization that provides students with the opportunity to learn more about computer science careers, participate in service and outreach programs to local schools, engage in research, meet with leaders in the computer field, all while earning a stipend!
The NC State STARS SLC is part of the larger STARS Alliance, a system of regional partnerships among colleges and universities, industry, primary schools and the community to collaboratively implement programs for student recruitment and success in computing.
NC State STARS SLC projects include SPARCS (Students in Programming, Robotics and Computer Science) @ Centennial Campus Middle School, and SPARCS @ Durham Nativity School. SPARCS is a middle school outreach program aimed at broadening participation in computer science. SPARCS offers monthly Saturday sessions with hands-on learning activities to introduce students to computer science concepts and practical applications including Alice programming, web design, and LEGO Mindstorm robotics.
Deborah S. Moore
, a NC State graduate, served as the first volunteer coordinator of the NC State University Student Center. She made many contributions to society including volunteer work, teaching English to retired Spanish-speaking people and working with the handicapped and underprivileged. A Beaufort County native, Mrs. Moore was the daughter of Mr. and Mrs. Charlie R. Singleton. The memorial was created in the Spring of 1977.
For more information on the Deborah S. Moore Service Awards, click here.
For more information on the STARS SLC, click here.
Return To News Homepage