CSC News
April 21, 2011
Student Paper Nominated as Distinguished Paper at Euro-Par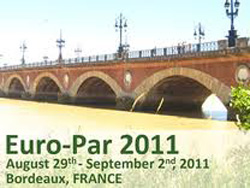 Congratulations to PhD student Sriram Lakshminarasimhan, and undergraduate Neil Shah, for having their paper, "Compressing the Incompressible with ISABELA: In-situ Reduction of Spatio-Temporal Data," nominated as a Distinguished Paper at the European Conference on Parallel Computing (Euro-Par 2011).
Congratulations also to PhD student John Jenkins and Master's student Isha Arkatar who had their paper, "Lessons Learned from Exploring the Backtracking Problem on the GPU," accepted to the conference.
Euro-Par is an annual series of international conferences dedicated to the promotion and advancement of all aspects of parallel and distributing computing. EuroPar 2011 is organized by the National Institute for Research in Computer Science (INRIA), the University of Bordeaux I and the French National Centre for Scientific Research (CNSR). The Euro-Par 2011 conference will be held August 29 - September 2, 2011 on the campus of Bordeaux II University, Place de la Victoire, in the center of Bordeaux.
For more information on Euro-Par 2011, click here.
Return To News Homepage