CSC News
April 19, 2011
Cardona-Rivera Wins DOE Computational Science Graduate Fellowship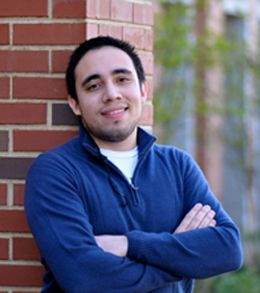 Congratulations to NC State Computer Science PhD student Rogelio Cardona-Rivera for being selected to receive a prestigious Department of Energy Computational Science Graduate Fellowship (DOE CSGF). The DOE CSGF program provides benefits and opportunities to outstanding students pursuing doctoral degrees in fields of study that use high performance computing to solve complex science and engineering problems.
The program fosters a community of bright, energetic and committed Ph.D. students, alumni, DOE laboratory staff and other scientists who share a common desire to impact the nation while advancing their science. Fellowship students represent diverse scientific and engineering disciplines but the common thread is their use of mathematical and computing techniques for their research.
DOE CSGF program benefits include: a $36,000 yearly stipend, payment of all tuition and fees, yearly conferences, $5,000 academic allowance in the first fellowship year, $1,000 academic allowance each renewed year, and a 12-week research practicum. The Fellowship is renewable for up to four years.
Dr. R. Michael Young
, director of the NC State Digital Games Research Center and Cardona-Rivera's advisor, says, "The DOE CSGF is one of the most competitive and significant fellowships available to graduate students in computer science. The fellowship covers educational costs for four years of Rogelio's study towards his doctorate, stipends to cover living expenses and computing equipment and the opportunity to engage with DOE computational scientists in leading national laboratories. I'm very excited about Rogelio's award and the springboard it provides for his research."
Cardona-Rivera's research deals with "computer models of interactive narratives", the body of cognitive and computer science research dedicated primarily to understanding and computationally modeling the human cognitive processes of interactive play in video games. Specifically, the proposed research agenda deals with (what Dr. Young and Cardona-Rivera coined as) "narrative affordances", which are opportunities for action presented by an interactive video game to the game player.
Says Cardona-Rivera, "With a better grasp on what players perceive as opportunities for action in an interactive environment, we can better evoke in game players a desire for participation. With a greater desire for participation, we can create better games that can be used for a wide range of contexts, including education as well as defense and government training."
For more information on Cardona-Rivera, click here.
Return To News Homepage