CSC News
April 19, 2011
Senior Design Center's "Posters & Pies" to be held on April 29th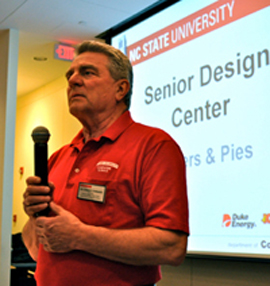 The public is cordially invited to attend the NC State Department of Computer Science Senior Design Center "Posters & Pies" event on Friday, April 29, from 10:40 am - 1:00 pm.
Project presentations will be held 10:40 am - 11:30 am in Engineering Building 2 (EB2) room 1025 on NC State's award-winning Centennial Campus. Posters and demonstrations will be displayed 11:30 am - 1:00 pm in rooms 3001 & 3002 in EB2. Lunch (pizzas and dessert pies) will be provided. The event is sponsored by Super ePartner, EMC.
This semester, the sponsors and projects are as follows:
AT&T

– Project Management Tool

Cisco

– Geo-location Software

Crumbs

– Automated Metadata Extractor & Digital Jukebox

Deutsche Bank

– Mobile, Gesture-based 3D Account Visualization

Duke Energy

– Smart Scheduler

EMC I

– Dumplin – Sophisticated Crash Analysis

EMC II

– Locality of Reference – How Hot is Your Hard Drive?

Fidelity Investments

– Sculpting of Financial Test Data

I-Cubed I

– MiPDA - Migration Predictability via Data Anaylsis

I-Cubed II

– CAD CAM App Exchange

Johns Hopkins University/Applied Physics Laboratory

– A Flexible & Secure Cryptographic Key Ring

NetApp

– iSER Performance in the Cloud

Northrup Grumman

– Robowolf

SAS

– Dimensional Space Mapping with Image Reference

Tekelec

– Design Verification Automation + SOAP

Teradata

– Facebook Shopping Pal

Thomson Reuters

– Mondrian Performance Harness

Transloc

– Bus Tracking Blackberry App
The media is welcome to this event.
Senior Design Center contacts:
Media & Corporate Partnership contact:
Return To News Homepage