CSC News
April 15, 2011
In the Driver's Seat
David Hunt / North Carolina State University Bulletin / 919-515-5863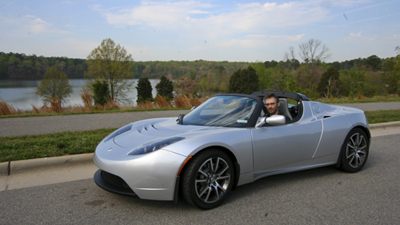 Standing at the bus stop, waiting for the Wolfline to whisk him off to an early morning computer science class, Josh Whiton had an epiphany. Well, not so much an epiphany as a feeling of irritation. Where's the bus?
Whiton may have missed the bus, but he didn't miss the opportunity to turn a problem into a solution. His brainchild, an online tool called
TransLoc
, lets transit riders track buses in real time on their laptops, smart phones or other handheld devices.
"People can go from having a half-hour wait for the bus to a 30-second or one-minute wait because they can see the vehicle coming down the road virtually," Whiton says.
Had this been the only solution he ever took to market, Whiton would still be a successful entrepreneur. TransLoc is used by universities and other transit providers across the country and generates more than a million hits a month.
An Eye for Opportunity
But Whiton, who calls himself a parallel entrepreneur, isn't just a one-hit wonder. He's the co-founder of
Raleigh City Farm
, an enterprise that grows food in small city spaces through a network of urban farms. And he's the driving force behind EVXP (the Electric Vehicle Experience), a company that rents high-performance electric cars.
Whiton will share the secrets of his success when he headlines the
Entrepreneurs' Lecture Series
at 5 p.m. Thursday, April 21, in the McKimmon Center. The talk follows the popular
e-Games
Company Showcase, which begins at 4 p.m.
"I think entrepreneurship is a fundamentally different way of viewing the world," he says. "I can't help but see opportunity when I open my eyes and look around. Products that are missing, products that could be better, services that are missing, problems to solve in the world. And it really bugs me if those solutions don't exist."
Take a Spin in a Tesla
~hunt~
Return To News Homepage