CSC News
March 24, 2011
36 Hours in a Day: The Real Life of the Student-Athlete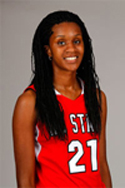 What's it like to be a student-athlete? How are their lives the same or different from other students at NC State? Brittany Strachan (forward, basketball), a senior majoring in computer science, and Asa Watson (tight end, football), a junior majoring in biological sciences, will discuss the rewards and challenges of being NC State student-athletes. The talk will take place on Thursday, March 31 at 4 p.m. in the Assembly Room (2nd Floor, East Wing) in the D.H. Hill Library.
"Our student-athletes have a unique perspective of life here at NC State," said Tonya Washington, Assistant Athletics Director for Student-Athlete Development. "Hearing directly from student-athletes themselves is a great way to understand how they handle the challenges and opportunities they encounter day-to-day."
Strachan
was recently named to the 2010-11 ACC Women's Basketball All-Academic Team and was awarded the Weaver-James-Corrigan Award, given to student-athletes who have performed with distinction in the classroom, community and in their respective sports.

The talk, part of the NC State Libraries' All-Star Student Series, is free and open to the public. Light refreshments will be served. The Series is made possible with support from the Tom Russell Charitable Foundation, Inc.
Return To News Homepage