CSC News
March 08, 2011
Strachan Named to 2010-11 ACC Women's Basketball All-Academic Team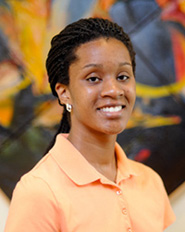 Congratulations to senior Brittany Strachan, a computer science major at NC State University, who has been selected to the 2010-2011 ACC Women's Basketball All-Academic Team.
Strachan and teammates Marissa Kastanek, a sophomore majoring in psychology, and Kody Burke, a freshman studying business administration, are representing NC State on the team. They are three of only 18 student-athletes from nine schools named to the team. Strachan and Kastanek are repeat winners having been selected to the 2009-10 academic team.
To be eligible for consideration for the ACC women's all-academic squad, a student-athlete must have earned a 3.0 grade point average for the previous semester and maintained a 3.0 cumulative average during her academic career.
Strachan recently also earned the ACC Weaver-James-Corrigan Award for postgraduate study, and has been nominated for a NCAA postgraduate scholarship and the ACC Scholar Award. She was selected to the Capital One second team Academic All-District women's basketball team as well.
Strachan averaged a career-best 8.1 points and 5.1 rebounds per game in her final collegiate season.
For more information about the 2010-2011 ACC Academic Women's Basketball Team, click here.
Return To News Homepage