CSC News
March 04, 2011
Remembering Dr. Norman F. Williamson (1923-2011)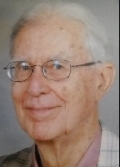 Dr. Norman F. Williamson, former acting Department Head (1973-1974), and Professor in the NC State University Computer Science Department, passed away February 27, 2011 after a brief illness.
Dr. Williamson studied electrical engineering at Armstrong College and then obtained a BS in Physics and Math from Emory University in 1950. After graduating, he worked on the technical staff at Bell Labs and as an assistant professor of Math at Wesleyan College, Macon, GA. He received a MS in Math and Statistics from Tulane University, New Orleans, La., in 1960. He later taught at LSUNO, and the College of Charleston in S.C.
He joined the staff at NC State University in 1966, where he earned a Ph.D. in Mathematics in 1970. He was on the committee to establish the original curriculum for the Computer Science Department at NC State, and was on the search committee to choose the original chair of the department. During his tenure, Dr. Williamson helped coordinate graduate student lab instructors and also taught many subjects ranging from Introductory Computer Science to Theory of Programming Languages.
Dr. Mladen A. Vouk,
the current Head of the Department of Computer Science and Associate Vice Provost for Information Technology at NC State, expressed his condolences on behalf of the department saying, "We are deeply saddened to hear of Dr. Williamson's passing. He played a critical role in the formation of our department and we are greatful for his legacy of leadership."
After retiring from academia in 1990, he became a senior partner in a family-owned and operated restaurant and live music venue - Humble Pie Bakery on S. Harrington St. in the warehouse district in downtown Raleigh. After 13 successful years, he sold the business in 2003.
Dr. Williamson is survived by his wife, Elizabeth, and sons Marc, Glenn and his wife, Beth, and Grover. There will be a celebration of his life at Pullen Memorial Baptist Church, 1801 Hillsborough Street in Raleigh on Saturday, March 5 at 10:00 a.m.
A complete obituary can be found here.
Return To News Homepage