CSC News
March 03, 2011
Vouk Recognized for Distinguished Service to IEEE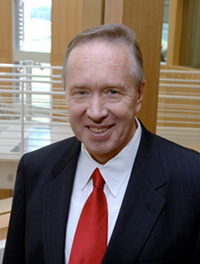 Dr. Mladen A. Vouk, Head of the Department of Computer Science, and Associate Vice Provost for Information Technology at NC State, has been named a member of the IEEE Computer Society's Golden Core. Vouk was also presented with an IEEE Computer Society Distinguished Service Award last fall when he was recognized "for leadership and guidance to the Software Reliability Engineering community."
The Golden Core is an elite group who are recognized for their outstanding service to the society. This special distinction was created in 1996 by the society's Board of Governors to help celebrate the society's 50th anniversary.
The first class of the Golden Core members consisted of approximately 500 persons who served the society in significant ways throughout its 50 years. Each year a much smaller number of additional persons are added, making the Golden Core group a permanent roster of the principal contributors to the society's success.
The Golden Core designation is obviously a play on the word "core", representing both the magnetic core memory, and the "corps" of dedicated volunteers and staff who have made the society the world's preeminent association of computer professionals
For more information on the Golden Core, including a list of past recipients, click here.
Return To News Homepage