CSC News
February 17, 2011
Department Congratulates Two Pride of the Wolfpack Award Winners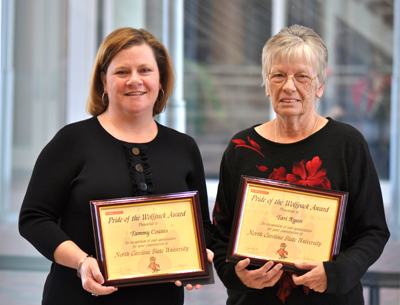 Two members of the Computer Science Department have been selected as recipients of the "Pride of the Wolfpack" Awards. Tammy Coates, External Relations Administrative Specialist, and Tari Ryan, Student Services Assistant in the Undergraduate Advising Office, were recognized for the months of September and December 2010, respectively.
The awards are designed to recognize NC State employees for a special or unique contribution to their college/unit or the University. Criteria for the award include: leadership on the job, customer focus, and quality of service.
Coates
was recognized for her "over and above" contributions toward project managing a comprehensive computer science outreach and student recruitment initiative that has been in the works for the last two years. It officially launched last fall (news story at http://www.csc.ncsu.edu/news/1067). Per her nomination: "Tammy has worked with numerous vendors to ensure the project was delivered on time and on budget. While she is a part time employee, she has shown incredible flexibility to work hours as needed to ensure success. She has handled delicate and sensitive project management issues with great skill. And her positive and encouraging communications style has proven very effective in moving elements of the project forward. Her 'over and above' efforts with the site content and video edits have helped produce a product that the department and the college can be very proud of for years to come."
Ryan
was recognized for her tireless support of advising activities and her role in putting together crucial information for the recent ABET accreditation self study. Per her nomination: "She is universally friendly and accommodating when dealing with both faculty and students. She's also gone the extra mile in supporting faculty with issues such as proctoring exams."
Congratulations to both of you, and thanks for all your hard work and dedication to the Computer Science Department and the College.
Return To News Homepage