CSC News
February 01, 2011
CSC Students Support Bald Eagle Streaming Video Project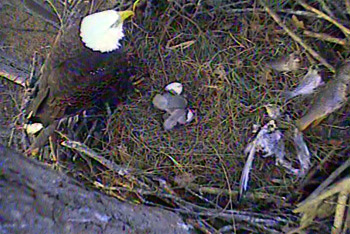 Several students from Dr. Harry Perros' CSC 591 Networking Services class have been part of the Triangle's first eagle-watching video project. Vivek Dodeja, Syed Hussain, and Wei Jai helped to provide the live video stream from a camera mounted above a bald eagle's nest at nearby Jordan Lake.
A nesting pair of eagles is raising two chicks that hatched earlier this month. This is significant because bald eagles were included on the Endangered Species list until 2007. Populations in North Carolina have increased from a single breeding pair in 1984 to over 70 breeding pairs in 2005, and there are currently five active nests on Jordan Lake. The nest being observed has fledged young in each of the last three years. The current inhabitants should remain in the nest until they are fully developed in mid-April.
The project originated in one of Dr. Ted Simons' biology classes at NC State. The purpose of the project is to stimulate interest in bald eagles, and to let people in the Triangle know that the birds are nesting right in their backyards.
The website has generated a lot of interest receiving tens of thousands of hits since its launch last fall.
To view the live video, click here.
Return To News Homepage