CSC News
December 20, 2010
143 Receive Degrees in Fall Diploma Ceremony
The NC State Department of Computer Science conferred 143 degrees during the Fall Diploma Ceremony on December 17, 2010. Over 1,000 relatives and guests celebrated with our graduates, faculty and staff during our ceremony held at Hope Community Church in Raleigh.
This graduating class included 13 Ph.D., 76 M.S., and 54 B.S. degrees expanding the department's alumni base to over 6,200.
The undergraduate class included two Valedictorians (perfect 4.0 GPA), Juliane M. Foster and Ryan K. Hasian; four Computer Science Honors Program participants, William B. Davidson, Eric Lifka, Teddy B. Lowery, and Hieu Trung Phung; two University Honors Program participants, Darrell J. Freeman, Jr., and Prateek Pramanik; three University Scholars, Veronica M. Catete, Charles S. Lingafelt, Jr., and Hieu Trung Phung; and numerous members of a variety of scholastic honor societies. The top employers for this semester's undergraduate students are NetApp and IBM.
Dr. Mladen Vouk
, department head, professor, and Associate Vice Provost for Information Technology, congratulated the graduates on their accomplishments. He cited recent projections of growth in career opportunities in the IT and computer science industries.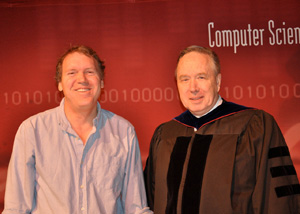 We were honored to have alumnus Marshall Brain (M.S. '89), serve as our keynote speaker. Marshall Brain is most widely known as the founder of HowStuffWorks.com, an award-winning resource website that offers clear, objective and easy-to-understand explanations of how the world around us actually works. The site, which he created as a hobby in 1998, has won countless awards including recognition in 2002 on PC Magazine's list of the Top 100 Classic Web Sites, Time Magazine's list of Top 50 Web Sites, and Yahoo! Internet Life's award as the "Best Science & Technology Resource".
In addition to being a successful entrepreneur and consultant, Brain is also the author of more than a dozen books including Manna, How Much Does the Earth Weigh?, and The Teenager's Guide to the Real World, now in its tenth printing and selected for the New York Public Library's prestigious "Books for the Teen Age" list.
An accomplished speaker with an uncanny ability to deliver complex material in a manner that is easily understood by audiences of all types, Brain is a regular guest on radio and TV programs nationwide. He has been featured on CNN, CNN Headline News, Modern Marvels, Martha Stewart Living Radio, and The Oprah Winfrey Show. In 2007, he was featured as the host of the National Geographic channel's "Who Knew? With Marshall Brain", a series of one-hour fact-filled episodes taking the viewer on a journey into the world of product design, manufacturing and testing.
Brain earned a B.S. in Electrical Engineering from Rensselaer Polytechnic University and a M.S. in Computer Science from NC State University, where he taught computer science for six years. He was selected as a member of the NC State University Academy of Outstanding Teachers. He resides in Cary, NC with his wife, Leigh, and their four children.
In his address to the graduates, Brain showed examples of obsolete technology that he used when he was a student at NC State – punch cards and a slide rule – to illustrate to the audience just how fast technology is changing. He told them that a lot of the technology they are currently using would soon be obsolete as well. After giving each graduate a marker, he asked them to write "MFTIMMIT" on his or her hand. "MFTIMMIT," he explained, stands for "My Free Time Is My Most Important Time." He encouraged them to make the most of their free time, and to remember the really important things in life.
Special entertainment was provided by local musician, Karl Moraski.
Our special thanks go to Cisco Systems, the ePartners Program, and the NC State Engineering Foundation for their generous sponsorship of this event.
Return To News Homepage