CSC News
December 17, 2010
Grateful Alum Gives Back Via His Will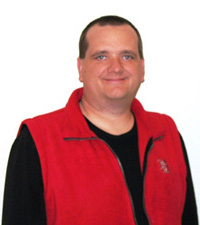 As a child, Brian Ricker BS CSC '92, MS MGT '96 liked computers and taking things apart.
So perhaps it's not surprising that today he is an IBM Program Director where he manages a team of
globally distributed group of software engineers. The native of Coral Springs, Florida, attended high school in Greensboro, North Carolina before coming to North Carolina State to study engineering and management.
Brian was always a fan of the Wolfpack. He was inspired by "Jimmy V," legendary North Carolina State basketball coach Jimmy Valvano, whose 1983 team won the national championship. "I was impressed by the way Jimmy V represented NCSU and his focus on winning," Brian said. "It gave me pride to be associated with State."
Brian still enjoys Wolfpack sports as well as traveling and scuba diving. He decided to honor his ties to State by including a bequest of 10 percent of his estate to the University.
By making a bequest, Brian will have the use and enjoyment of his assets as long as he needs them. This could be important if his financial circumstances change. In addition, if his estate grows in the coming years, his gift could become significantly larger than he can make now.
"A bequest seemed like the easiest way to make a large commitment to supporting our great university!" Brian said. "I'm extremely grateful for the opportunities that my State education has provided for me."
Read More Stories About People Making a Difference by clicking here.
~###~
Return To News Homepage