CSC News
November 16, 2010
Senior Design Center's "Posters & Pies" to be held on December 3rd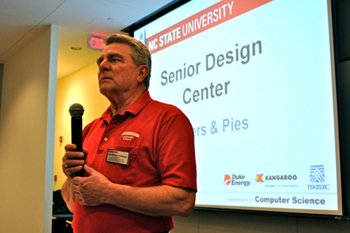 The public is cordially invited to attend the NC State Department of Computer Science
Senior Design Center
"Posters & Pies"
event on
Friday, December 3, from 10:40 am - 1:00 pm
.
Project presentations will be held 10:40 am - 11:30 am in Engineering Building 2 (EB2) room 1025 on NC State's award-winning Centennial Campus. Posters and demonstrations will be displayed 11:30 am - 1:00 pm in rooms 3001 & 3002 in EB2. Lunch (pizzas and dessert pies) will be provided.
The event is sponsored by Super ePartners, NetApp and Tekelec.
This semester, the sponsors and projects are as follows:
AT&T – Visualization of Network Topology

Deutsche Bank (DB Global Technology, Inc.) – Bridging Project Management Tools

Duke Energy – Blackberry Server Interface

Johns Hopkins University/Applied Physics Laboratory – Secure Code Execution in a Compromised OS

Network Appliance, Inc. – iSER Performance Evaluation Project Continuation

NC State Board of Examiners of Electrical Contractors – Serious Games: An Interactive Visualization of the Electrical Wiring Code

SAS – Using Business Analytics and Social Media Data to Get Better Answers Faster

Tekelec – Analysis and Reporting of Automated Testing Results

TeraData – TeraData Shopping Pal

Thomson Reuters - Healthcare – Mondrian: Performance Test Harness

TransLoc I – Bus Tracking Android App

TransLoc II – Instant Replay for Bus Tracking
If you plan to attend,
please register online
by
Tuesday, November 30
, so that we may properly plan for food & refreshments.
The media is welcome to this event.
Senior Design Center contact:
Media & Corporate Partnership contact:
~coates~
Return To News Homepage