CSC News
October 15, 2010
Fidelity Investments "Leadership in Technology" Series Presents Stephen Wiehe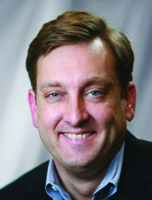 Please join us on November 4th at 6 pm in Lecture Hall 1231 EBII for the first fall 2010 talk in the Fidelity Investments "Leadership in Technology" Executive Speakers Series.
Our special guest speaker will be Stephen Wiehe, President & CEO, SciQuest. His talk topic will be "Emerging from the Ashes - The Evolution of Leadership."
Since joining SciQuest as president and CEO in 2001, Steve has taken the company from an e-market exchange to the leading provider of on-demand eprocurement solutions for academic, healthcare and research-centric organizations. His vision for SciQuest's future led him to take the company private in 2004 and focus on creating a business-driven culture that provides organizations with a proven solution to achieve significant cost savings and advance their mission.
For his complete bio, click here.
Abstract: As the chief executive officer of a company that was forced to emerge from the ashes of the dot-com era with a much leaner workforce and a new business model, I have had to unlearn some of my most cherished leadership lessons. This is our story.
The event is free and open to the public. Ample free parking is also available.
For directions and more information, visit the series page or contact Ken Tate.
Return To News Homepage