CSC News
September 29, 2010
Fidelity Investments "Leadership in Technology" Series Presents Teresa Spangler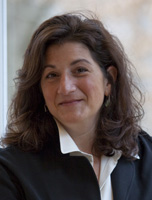 Please join us on October 14th at 6 pm in Lecture Hall 1231 EBII for the next fall 2010 talk in the Fidelity Investments "Leadership in Technology" Executive Speakers Series.
Our special guest speaker will be Teresa Spangler, Founder & CEO, The PlazaBridge Group. Her talk topic will be "Re-Everything! How Can the U.S. Regain Leadership in Innovation?"
Teresa Spangler's innovation extends beyond creating brands and start ups; she is author to a four book series, Game of Life and columnist to monthly publications including, Over the Edge in Women's Edge Magazine. Teresa holds a B.S. from Appalachian State University and Executive Leadership & Management certifications from Duke University and Harvard University. Teresa currently serves on the Board of The Council for Entrepreneurial Development, The NC World Trade Association and is Chair of the non-profit arts organization, Night of Dreams.
For her complete bio, click here.
Abstract: Innovation is a key catalyst for economic success and recovery. Working with some of the greatest brands, innovation guru's, hundreds of entrepreneurs, Teresa Spangler experiences daily examples of the breadth of human ingenuity to improve and create new solutions to social, economic, political, and technical challenges. The barriers to creating successful ventures are vast. What are early success signs? How do you know if you are moving things successfully forward? What team dynamics are needed to carry an idea to commercial success? What are the roles of the innovator, the entrepreneur, the investor and the company leadership in fostering a culture of success? What role does revenue have and when should you begin to think about revenue?

In this highly interactive presentation, Teresa Spangler uses creative and experienced based stories and uniquely entertaining methods to explore some of the causes to the U.S.'s decline in innovation, break down barriers that keep companies from realizing their full revenue and market potential, and make connections between thought, innovation and action.
The event is free and open to the public. Ample free parking is also available.
For directions and more information, visit the series page or contact Ken Tate.
Return To News Homepage