CSC News
August 30, 2010
Fidelity Investments "Leadership in Technology" Series Presents Alex Macris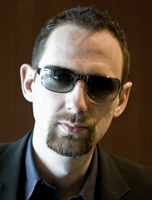 Please join us on September 28th at 6 pm in Lecture Hall 1231 EBII for the first fall 2010 talk in the Fidelity Investments "Leadership in Technology" Executive Speakers Series.
Our special guest speaker will be Alexander Macris, Co-founder, President & CEO, The Themis Group. His talk topic will be "Reset Generation: What Video Games Teach Us About the Next Gen Workforce."
As president & CEO of The Themis Group, Mr. Macris provides the company's strategic vision and serves as the Publisher and Editorial Director of its media properties, including its flagship publication The Escapist (www.escapistmagazine.com), the mouthpiece of the gaming generation. He is also co-founder and president of the Triangle Game Initiative, the industry's trade association for the Raleigh-Durham area.
For his complete bio, click here.
Abstract: Business leaders across the country are grappling with the challenge of motivating and retaining the Gen Y workforce. The "Reset Generation" has grown up with computer and video games, and they think, play, and work differently from those who developed under a traditional paradigm. Join us for a discussion on leadership lessons gathered from a decade building and managing a videogame media company for and by the next-gen worker.
The event is free and open to the public. Ample free parking is also available.
For directions and more information, visit the series page or contact Ken Tate.
Return To News Homepage