CSC News
August 25, 2010
Alumnus Breaux Named Assistant Professor at Carnegie Mellon University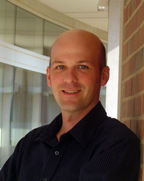 Congratulations to NC State Computer Science alumnus, Dr. Travis Breaux, who was recently appointed as a tenure-track, Assistant Professor of Computer Science within the School of Computer Science at Carnegie Mellon University. Breaux will be joining the faculty in the Institute for Software Research and working among such software engineering luminaries as Drs. David Farber, David Garlan, and Mary Shaw.
Breaux received his Ph.D. in Computer Science from NC State under Dr. Annie Antón, where his research sought to develop new methods and tools to ensure legal compliance in software-intensive information systems. While at NC State, Breaux was a three-time recipient of the IBM Ph.D. Fellowship, a recipient of the Walter H. Wilkinson Research Ethics Fellowship and member of the NCSU Preparing the Professoriate program.
Prior to joining the faculty at Carnegie Mellon, Breaux worked at Oak Ridge National Laboratory, the IBM Thomas J. Watson Research Laboratory and the Institute for Defense Analyses.
Breaux will continue his research in requirements and software engineering to ensure software systems comply with privacy and security policies, laws and standards, while advising students in the
Software Engineering
program and the
Computation, Organizations and Society
program at Carnegie Mellon University.
Return To News Homepage