CSC News
August 19, 2010
Predicting the Effects Of Climate Change
For Immediate Release
Matt Shipman | News Services | 919.515.6386
Release Date: 08.19.2010
Filed under Releases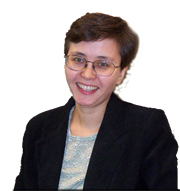 North Carolina State University researchers are part of a major new research initiative from the National Science Foundation (NSF) aiming at improving climate scientists' ability to predict potential consequences of climate change. The work being done at NC State will focus on improving our ability to predict hurricanes and precipitation patterns.
At issue is a five-year, $10 million NSF Expedition grant, "Understanding Climate Change: A Data Driven Approach," which aims to advance climate science by taking advantage of the wealth of climate data collected by satellites, ground-based sensors and physics-based climate simulations. The grant, which is being led by Professor Vipin Kumar from the University of Minnesota, includes $1.8 million in funding for work that will be performed at NC State by Drs. Fred Semazzi and Nagiza Samatova (shown here).
Semazzi, a professor of marine, earth and atmospheric sciences at NC State, will be working to improve the prediction of Atlantic hurricanes by significantly advancing computational techniques used to analyze climate datasets. "The underlying hypothesis is that there may be hidden nuggets of knowledge within climate datasets, which may complement traditional physics-based insights," Semazzi says.
Semazzi's goal is to develop a new, more sophisticated, approach to Atlantic hurricane prediction. The new approach "will be based on a combination of the application of highly efficient high-performance computer algorithms, data-mining methods, data fusion and signal detection processing techniques to isolate the triggers for the development of Atlantic hurricanes," Semazzi explains.
Samatova, an associate professor of computer science at NC State and joint faculty appointee at Oak Ridge National Laboratory, will be developing high performance data analytics algorithms and tools that will ideally be able to improve the accuracy and detail of climate forecasts. This is important, Samatova says, "because much of the existing climate forecast data is on a large scale – addressing global trends for time scales of 100 years."
Specifically, Samatova will be developing software that can be used to model the climate system as a complex and dynamic network. Samatova's goal is for the software to use observational data and physics-based simulations to improve our ability to predict precipitation and hurricane activity on a regional level and over 10-year time periods.
"We also hope to tap into high-performance computing technologies to improve the response time for these climate models," Samatova says. "This should allow climate researchers to analyze data, and explore more hypotheses, much more quickly."
The other institutions affiliated with the grant include North Carolina A&T, the University of Tennessee and Northwestern.
NC State's Department of Computer Science is part of the university's College of Engineering; the Department of Marine, Earth and Atmospheric Sciences is part of the university's College of Physical and Mathematical Sciences.
-shipman-
Return To News Homepage