CSC News
August 19, 2010
Wyatt to Deliver Keynote for 10th Annual College of Engineering Welcome Event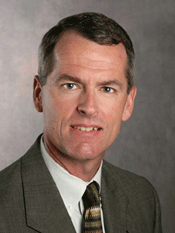 The College of Engineering (COE) at North Carolina State University will hold its 10th Annual Welcome event on Thursday, August 19 at 4:30 p.m. at The McKimmon Center at 1101 Gorman Street on the NC State campus in Raleigh, NC. Media coverage is invited.
The event welcomes new engineering students to campus and features an address by an engineering leader. It also presents information about campus resources such as internships, study abroad and student organizations.
Mark Wyatt, a 1980 NC State computer science alumnus and vice president of smart grid and energy systems at Duke Energy, will deliver the keynote address. Wyatt has worked at Duke Energy for more than 28 years and has served in many positions including director of global asset development, managing director of information management and vice president of information technology.
Wyatt serves on the Department of Computer Science's Strategic Advisory Board and has also served as a member of the NC State Physical and Mathematical Science Foundation's Board of Directors.
For more information, click here.
Media Contact: Nate DeGraff, Engineering Communications, nate_degraff@ncsu.edu, 919.515.3848.
# # #
Return To News Homepage