CSC News
August 09, 2010
Ning Receives NSF Award to Study Wireless System Security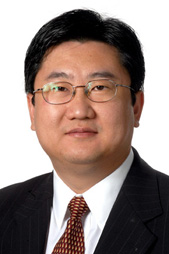 Dr. Peng Ning,
professor of computer science at NC State University, has been awarded $499,064 by the National Science Foundation (NSF) to support his research proposal titled "Defending Against Insider Jammers in DSSS – and FH-Based Wireless Communication Systems."
The award will run from September 1, 2010 to August 31, 2013.
Ning will collaborate on the research with Dr. Huaiyu Dai, associate professor in the Electrical and Computer Engineering Department at NC State.
Abstract
- Jamming resistance is crucial for applications where reliable wireless communication is required, such as rescue missions and military applications. Spread spectrum techniques such as Frequency Hopping (FH) and Direct Sequence Spread Spectrum (DSSS) have been used as countermeasures against jamming attacks. However, these anti-jamming techniques require that senders and receivers share a secret key to communicate with each other, and thus are vulnerable to insider attacks where the adversary has access to the secret key. The objective of this project is to develop a suite of techniques to defend against insider jammers in DSSS and FH based wireless communication systems. We will develop novel and efficient insider-jamming-resistant techniques for both DSSS- and FH-based wireless communication systems. Our proposed research consists of two thrusts. The first thrust is to develop novel spreading/ despreading techniques, called DSD-DSSS (which stands for DSSS based on Delayed Seed Disclosure), to enhance DSSS-based wireless communication to defend against insider jamming threats. The second thrust is to develop a new approach, called USD-FH (which stands for FH based on Uncoordinated Seed Disclosure), to enable sender and receivers using FH to communicate without pre-establishing any common secret hopping pattern. A key property of our new approaches is that they do not depend on any secret shared by the sender and receivers. Our solution has the potential to significantly enhance the anti-jamming capability of today's wireless communication systems.
Return To News Homepage