CSC News
July 06, 2010
Gordons Establish Scholarships with a Service Twist
Computer Science alumna Suzanne Gordon (B.S. CSC '75, M.S. CSC '80) and her husband, Ralph (B.S. CE '72), have recently made a multi-year pledge to establish the Gordon Family Scholarship Endowment, which will provide an annual award to an outstanding undergraduate pursuing a degree in computer science. A similar endowment has been created by the Gordons to benefit undergraduates pursuing a degree in the College of PAMS.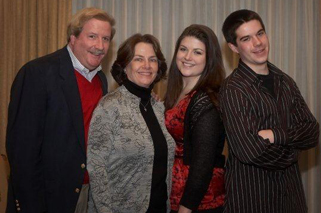 The two endowments will have a combined starting value of $50,000, and when fully funded should generate $1,000 each annually for awards. In the interim, as the endowments are maturing, the Gordon's have made a commitment to fund annual awards allowing the first scholarships to be awarded starting this fall.
In the spirit of "paying-it-forward", both scholarship awards will require that recipients volunteer one hour per week as a tutor in math or computer skills at the SAS Learning Center at Kentwood, a partnership program of Communities in Schools, or a similar community program for at-risk children and youth.
"We have been so blessed and are happy to be able to help outstanding students pursue degrees that will allow them to make a very real and powerful impact in the world," says Suzanne. As for the unique service twist, she contends it is never too soon to start giving back. "Young at-risk children and youth need strong motivators and role models, and who better to provide this vital service than talented NC State students? I'm confident that both the children and the student tutors will grow from the experience, and in the end, that may be the greatest gift we can give."
Suzanne is the Vice President, Information Technology and Chief Information Officer at SAS Institute, where she has worked since 1980. As a graduate of NC State University with bachelor's degrees in math and computer science and a master's degree in statistics, Suzanne maintains close ties to the university. Currently a member of the College of Engineering Foundation Board, she has also served on the Alumni Association Board, the College of Management Advisory Board, and the University's Board of Trustees. A frequent speaker and mentor to women pursuing technical careers, Suzanne is also active in a medical ministry that provides services to low-income individuals.
Ralph is the retired president of TGS Engineers. He is also an NC State alum with a bachelor's and master's degree in civil engineering. The couple has two children with ties to NC State. Daughter, Emily, recently graduated from NC State with a bachelor's degree in applied mathematics and a master's in global innovation management, while their son, Stuart, is a Caldwell Scholar studying mathematics education. The couple lives in Cary, NC.

~tate~
Return To News Homepage