CSC News
June 16, 2010
Chopra Awarded Marie Curie Fellowship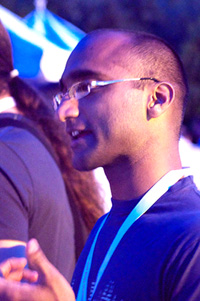 Amit Chopra, a Masters (2003) and PhD (2008) graduate of the NC State Department of Computer Science, has been awarded a Marie Curie Fellowship (Project Trentino), as part of the European Union – 7th Programme of Research.
His project titled "Business-level modeling and middleware for services: Reasoning about goals, compliance, interoperability, and adaptability" was one of 21 projects selected out of the 66 that were submitted. The award, valued at approximately $61,000 per year, is for two years and includes travel and equipment allowances.
Chopra was also recognized as one of the top three (out of 350) people nominated for the Best Program Committee Member Award at the Ninth International Conference on Autonomous Agents and Multiagent Systems (AAMAS 2010) held in Toronto, Canada in May 2010. The award recognizes the outstanding quality of reviews and discussion of papers.
While at NC State, Chopra was advised by Dr. Munindar Singh, professor in the Department of Computer Science.
~coates~
Return To News Homepage