CSC News
May 24, 2010
Bitzer Honored at "PLATO@50" Conference at the Computer History Museum
Two-Day Free Conference Commemorates PLATO's Amazing Legacy and Wide Influence; Features PLATO Creator and Plasma Display Co-Inventor Don Bitzer; Microsoft's Ray Ozzie; Brian Dear of PLATO History Foundation
Source – Computer History Museum

For Immediate Release

Media Contacts: Amy Jackson
Eastwick Communications
(415) 609-2435
chm@eastwick.com
MOUNTAIN VIEW, CA--(Marketwire - May 20, 2010) - The Computer History Museum (CHM) announced today that it will host the PLATO@50 Conference June 2-3, 2010, celebrating the 50th Anniversary of PLATO, a large-scale computer system for which numerous popular technologies were invented, including gas-plasma flat-panel displays and interactive touch screens, as well as many software innovations. A co-production of the PLATO History Foundation (PHF) and CHM, the event will assemble in one place many of the key people involved with the creation of PLATO, for the first-ever public conference celebrating its history and accomplishments.
PLATO's list of innovations and seminal influences is considerable. Stemming from the University of Illinois in the 1960s and later marketed by Control Data Corporation, PLATO stands for "Programmed Logic for Automated Teaching Operations." Designed as a large-scale system to teach students nationwide, with more than 10,000 hours of courseware in subjects ranging from elementary math to air traffic control, the federally-funded system quickly became much more -- a virtual microcosm of today's online world, with a thriving online community predating today's social media by decades.
"PLATO@50 is another example of the Museum doing something only we would undertake -- celebrating and paying tribute to a groundbreaking system whose innovations live on today," says John Hollar, President & Chief Executive Officer, CHM. "It's one of the great, unsung stories in computing over the last half century, and we're proud to stage this event on site and online."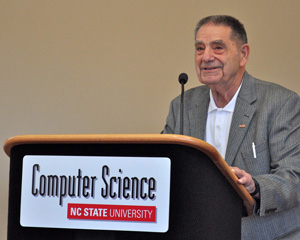 The PLATO@50 conference features a significant lineup of speakers, including Donald Bitzer, creator of PLATO, co-inventor of the flat-panel gas plasma display, and Distinguished University Research Professor at NC State University ; Ray Ozzie, Chief Software Architect of Microsoft (and a systems programmer on PLATO in the 1970's at the University of Illinois); Brian Dear, founder of the PLATO History Foundation and author of the upcoming book on PLATO, The Friendly Orange Glow; Phil McKinney, Vice President and CTO of HP's Personal Systems Group; moderators Steve Gillmor of "Gillmor Gang," Charlene Li of Altimeter Group, and many others.
"Those of us who were fortunate enough to have been early users of the PLATO system got a sneak peak at what one day the internet would become," said Ozzie. "Don Bitzer believed that computers could have a far broader impact than just simply computing; that in fact they could transform how we learn. But beyond education, the unbounded creativity of its emergent online community caused PLATO's impact to be far broader than any of us could have ever imagined."
"A convincing case can be made that PLATO was the birthplace of social computing," said Dear. "The list of parallels is long and impressive: multi-user chat rooms, instant messaging, the first online newspaper, group message forums, email, a thriving developer community, and addictive multi-player games."
On Wednesday, June 2 at 7 p.m., CHM Presents "PLATO@50- Seeing the Future Through the Past." The evening program will begin with a PLATO overview presented by Dear. Then John Markoff of The New York Times will moderate a panel featuring Bitzer and Ozzie.
Daytime panels on Thursday, June 3 will discuss the culture of innovation fostered by Bitzer, PLATO hardware and software, online education, online multiplayer games, and PLATO's online community. For more information and event descriptions, visit http://computerhistory.org/events/listing/plato-at-50/.
Support for PLATO@50
Major funding for PLATO@50 is provided by Microsoft Corporation. The Conference Sponsor is PLATO Learning, Inc.
About the PLATO History Foundation
Founded by Brian Dear, who worked on PLATO systems at the University of Delaware, University
of Maryland, and Control Data Corporation, the PLATO History Foundation's focus is to advance the public awareness of the history, significance, and importance of the PLATO computer system and its online community, and to tell the story of the people who designed, built, and used the system. The PLATO@50 conference is one outcome of this effort. For more information, visit http://platohistory.org and follow @platohistory on Twitter. Information about Dear's upcoming book on the history of PLATO can be found at http://friendlyorangeglow.com.
Computer History Museum Events
All events are free of charge and will be held at the Computer History Museum in Mountain View. To register, visit http://computerhistory.org/events. For more event information and updates from the Computer History Museum, become a fan on Facebook and follow @computerhistory on Twitter.

About the Computer History Museum
The Computer History Museum (CHM) in Mountain View, Calif. is a nonprofit organization with a four-decade history. The Museum is dedicated to the preservation and celebration of computer history, and is home to the largest international collection of computing artifacts in the world, encompassing computer hardware, software, documentation, ephemera, photographs and moving images.
CHM brings computer history to life through an acclaimed speaker series, dynamic website, onsite tours, as well as physical and online exhibits. Current exhibits include, Charles Babbage's Difference Engine No. 2, Mastering the Game: A History of Computer Chess, and Innovation in the Valley -- A Look at Silicon Valley Startups. The online exhibit, featuring the Timeline of Computer History and over 600 key objects from Visible Storage, is found at: www.computerhistory.org.
Revolution: The First 2000 Years of Computing will open physically and online in January 2011. It will include the first permanent exhibit chronicling the origins of the Web and the Internet.
For more information, visit www.computerhistory.org or call (650) 810-1059.
PLATO® is a registered trademark of PLATO Learning, Inc.
###
Return To News Homepage