CSC News
May 18, 2010
Department Confers 142 Degrees During Spring Diploma Ceremony
The NC State Department of Computer Science conferred 142 degrees during the Spring Diploma Ceremony on May 14, 2010. Approximately 1,100 relatives and guests attended the event held at Hope Community Church in Raleigh.

The graduating class included six PhDs, 69 MS degrees, and 67 BS degrees, expanding the department's alumni base to well over 6,100.

The undergraduate class included nine students recognized as members of the Computer Science Honors Program:Katie Lynn Bright, Matthew Alexandre Brown, Christopher R. Dzoba, Jay Prakash Goel, Kelsey Pal Hawkins, Justin L. Mosiman, Hieu Trung Phung, Stephen Creig Roller, and Michael Lee Warren. Three were recognized as members of the University Honors Program: Tyler Scott Arehart, William Alexander Calhoun, and Michael Lee Warren; and two were University Scholars: David Andrew Boyuka II, and Hieu Trung Phung. The class also had five valedictorians: David Andrew Boyuka II, Katie Lynn Bright, Ryan Edward Kabatchnick, Johathan Jesse Pittard, and Stephen Creig Roller. The top employers for this semester's undergraduate students are Fidelity Investments, IBM, NetApp, and SAS.
Dr. Mladen Vouk
, department head, professor, and Associate Vice Provost for Information Technology, congratulated the graduates on their accomplishments, noting the numerous awards and accolades this class has received. He thanked the faculty, staff, parents, family and friends who contributed to the success of the graduates. It was noted that some graduates go to great extremes to attend the ceremony. One graduate traveled more than 22 hours to attend the ceremony – four hours of driving and 18 hours of flying from South Korea with his wife and 3 year-old daughter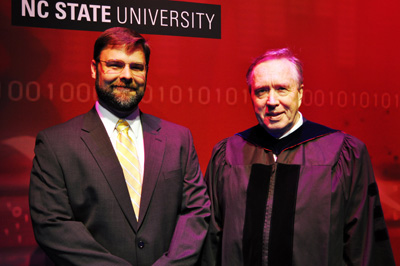 We were honored to have NC State Computer Science graduate
John O'Neill (B.S. '96)
, president and founder of
Spark Plug Games, LLC
, deliver the keynote address. O'Neill is actively involved in the department as a member of the Computer Science Department's Strategic Advisory Board, and a member of our adjunct faculty who will teach a gaming class in the fall. His company, Spark Plug Games, a leading independent games developer creating games and educational products for Windows, Macintosh, and the iPhone market, is a valued ePartner with the department and a regular sponsor of the year-end Game Development Showcase.
O'Neill told the graduates that what they've learned while studying at NC State has prepared them for what they'll be doing in life. He encouraged them to never stop learning, and to never be afraid of a challenge. He also urged them to master the "soft skills," adding that technical prowess is great, but if they can't convey the information to a non-technical crowd, their careers will be limited. He ended with a final piece of advice: "Do what you love, and love what you do."
Hope Community Church provided a wonderful setting for the department's diploma ceremony, with ample parking, comfortable accommodations, and professional AV capabilities allowing for live broadcast of the ceremony.
DVDs of the ceremony are available for a nominal processing fee. Contact Tammy Coates for more information
. Additionally, a professional photographer took photos of each graduate as he/she received her diploma. For more information, please contact the
photographer
.
Local musician
Karl Moraski
, provided special entertainment.
Special thanks to our Diploma Ceremony sponsors: our
ePartners Program
, its participating corporate sponsors, and the
NC State Engineering Foundation
.
~coates~
Return To News Homepage