CSC News
May 04, 2010
2010 Outstanding Computer Science Seniors Recognized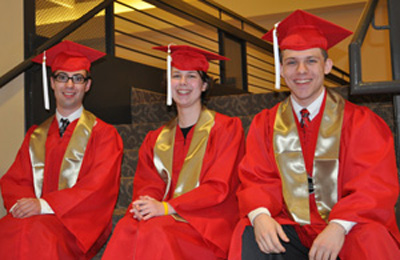 Each year, the NC State College of Engineering recognizes students for their outstanding performance beyond academic achievement with Outstanding Senior Awards. Three Computer Science students were recognized during an awards ceremony on May 3rd.
Winners of the 2010 Computer Science Outstanding Senior Awards are:
Stephen Creig Roller - the Scholarly Achievement Award. This award is for a student who excels both inside and outside the classroom. Stephen is a recipient of a Northrop Grumman Scholarship, and a member of Phi Kappa Phi and the Golden Key Honour Society. In addition to his accomplishments in academia, Stephen has found time to be an active member of the NC State community. He has participated in Habitat for Humanity's Shack-a-thon, and is a volunteer in the Token Energy Club/Pack Pulse Project (http://packpulse.com/). The PackPulse project is an effort to raise energy awareness at NC State by providing real-time energy usage information.
Katie Lynn Bright - the Leadership Award. Katie has achieved academic excellence in computer science and is the recipient of a Progress Energy Merit Scholarship, the Don and Doris Martin Scholarship, and is a participant in the Computer Science Honors Program. An active member of WiCS (Women in Computer Science) since 2007, Katie has been the secretary since 2008. She has organized many club functions to further the group's mission to promote, support, and retain women in computer science by providing opportunities for personal and professional development. Katie has found ways to channel her passion for mountain biking and road cycling into community service by participating in "le tour de femme," a bicycle race benefitting the Lance Armstrong Foundation and the Rex Hospital Angel Fund. She has also participated in "Bikes for the World" by aiding in the collection of used bicycles for donation to people in developing nations. A leader by example both in and out of the classroom, Katie maintains a 4.0 GPA, has participated in undergraduate research, and worked as a student intern at SAS Institute since 2007.
David Andrew Boyuka II (Drew) – the Citizenship and Service Award. A Park Scholar, Drew is also a participant of the University Scholars Program. Since fall, 2008, Drew has been the webmaster for Service Raleigh (http://www.serviceraleigh.org/), contributing his technical skills to give the organization and it's annual Service Day event an effective Internet presence. He is also a chapter officer and webmaster for the NC State Chapter of the ACM/AITP (Association of Computing Machinery/Association of Information Technology Professionals). Last year, Drew was an integral part of the 2009 Engineering Day event, taking a lead role in fitting the pedestrian bridge built by NC State students at the State Legislature with real-time telemetry and weather sensors. He has volunteered with CASA, a local community organization serving central North Carolina that develops and manages safe and supportive housing for persons challenged by disabilities, and persons with income limitations. While being active on campus and in the community, Drew has also worked as a teaching assistant, participated in undergraduate research, and maintained a 4.0 GPA.
Congratulations to these outstanding students! We take great pride in them as they serve as tremendous representatives of the department and great role models for our student body.
~coates~
Return To News Homepage