CSC News
April 19, 2010
NC State Game Development Showcase Planned for April 30th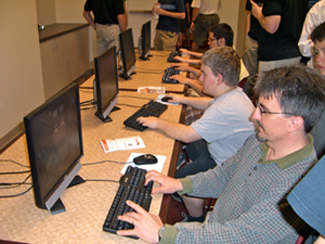 You are cordially invited to attend NC State's 2010 Game Development Showcase to be held Friday, April 30 at 7:00 p.m. in Engineering Building 2 on NC State's Centennial Campus.
The annual event, now in its sixth year, highlights the games built by teams of Computer Science and Industrial Design students in their joint courses on the game development process. Three teams of students will give presentations describing the design and development of their games, from the initial concept phase, through the definition of technical and artistic milestones to the effort involved to create a finished product. After their presentations, students will host audience members at a reception where the courses' games will be available for play and the students will answer questions about their work.
The event is free and open to the public. Refreshments will be served at the reception. All the games' content is appropriate for children. Faculty at the reception will also be able to answer questions from students and parents interested in NC State's courses and programs focusing on game creation.
Important Details:
Date: April 30, 2010
Time: 7:00PM to 10:00PM
Location: Engineering Building 2, Room 1231
Reception to follow in EB2 Rooms 3001 and 3002 (the third floor bridge between the two wings of EB2).
About the Games:
Games made by students in the two classes -- CSC482 and ID400 -- are built this year using Epic Games' Unreal Development Kit (UDK), tools based on the Unreal engine -- perhaps the most-used, advanced commercial game engine on the market today. Computer Science students work to develop software that drives the dynamics of each game while Industrial Design students build the 2D and 3D art, object and character models and animations that compose the game's content. Both disciplines contribute to the design of the gameplay and overall feel of the game.
Each year, the class instructors provide a small set of initial constraints for the teams as they work to form their game concepts. This year, one team was required to build a game that was serious game combining fun and educational elements. Another team was required to build a game based on a short story by author Philip K. Dick. The third team built a game that made the manipulation of time a core game activity. The three games produced by the teams are:
"Merchant of Death" by Rock Pile Games
News flash: The Nazi's Won the War! The year is 2157 and the Axis powers won WWII. The United States has been split into two separate territories. Germany controls what used to be the Eastern United States, and Japan controls what used to be Western United States. Hitler has gotten even greedier and wants to rid the world of Japan. You are the last hope to thwart Operation Lowenzahn. Your mission is to get into the German headquarters and gather intel pertaining to Hitler's mission, and then escape, returning that intelligence to your superiors. You must stay hidden or use disguises during your mission to keep from being detected. Keep an eye on your stealth meter, as the Gestapo robots are patrolling for abnormalities. Based on the Philip K. Dick novel "The Man in the High Castle".
"Terraform" by amorphous games
In the future year of 1973, the Earth is dying. You have been recruited to make a journey to the mysterious Planet X in an effort to gain humanity a new home. Before your journey begins, however, you must "view" a recording of the last Terraform effort to prepare yourself. Armed with the high-tech ADaM gun, players must combine basic elements into compounds to solve puzzles that will prepare Planet X for humanity.
"Operation reAmp" by Studio 2
It is the year 3000, overpopulation has run rampant as all major diseases have been cured. Join Heinrick, having just lost his job due to competition, as he is forced to take a job as a test subject at Pear, a software and chemical testing corporation. During one of your many operations at Pear, unforeseen side effects occur, causing complications for Heinrick. These events lead to the transformation of mild-mannered Heinrick into a time controlling hero! Using his newfound powers Heinrick sets out to escape the facility.
Directions and Parking: Engineering Building 2 (or EB2) is located on NC State's Centennial Campus [directions and campus map]. The showcase will be held on the ground floor of EB2's east wing, in room 1231. Click here for directions.
Parking on Centennial Campus after 5 p.m. is free. We recommend that you park either on Oval Drive (closest, but limited) or the Partners Way Parking Deck (slightly farther away, but larger and covered). Click here for a Centennial Campus map.
Handicapped Access: From the bus stop on Varsity Drive and Partners Way or from the parking deck on Partners Way, you can enter EB2 right from the point where Varsity Drive ends on Partners Way: this is one level below the main level. Go down a long hall to the second elevator: the lecture hall where the presentations will be (EB2 1231) is located on the first floor to the left after exiting the elevator.
About Our Sponsors:

Platinum Level Sponsor, Epic Games, Inc., based in Cary, NC and established in 1991, develops cutting-edge games and cross-platform game engine technology. The company has created multiple million-selling, award-winning titles in its "Unreal" and "Gears of War" series of games. Epic's Unreal Engine 3 is the four-time winner and Hall of Fame inductee for Game Developer magazine's Best Engine Front Line Award. For more information, click here.

Gold Level Sponsors, Spark Plug Games is a leading independent games developer, currently licensed for Sony PlayStationR3, Nintendo WiiT, Nintendo DST, Microsoft Xbox 360R and Apple iPhoneT platforms. Our studio culture lives by the slogan "We ignite fun!". It expresses the burning corporate desire to create casual products with high quality, high value, and high entertainment, and our personal desires to love what we do for a living. Our team of industry veterans shares the same passion to create innovative and accessible games. We are equally adept at working with existing licenses and creating innovative and original new intellectual properties. For more information, click here.
For More Information:
Dr. R. Michael Young, associate professor and instructor, Computer Science 481 Advanced Game Development Projects.
Dr. Timothy Buie, assistant professor and instructor, Industrial Design 400, 3D Game Development Studio.
~coates~
Return To News Homepage