CSC News
April 14, 2010
John O'Neill to Speak at Spring 2010 Diploma Ceremony May 14th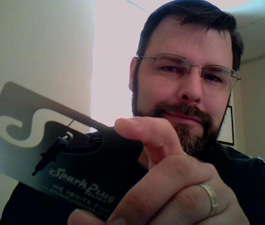 The NC State University Computer Science Department will hold its Spring Diploma Ceremony on Friday, May 14 at 7 p.m. in the main auditorium at Hope Community Church, located at 821 Buck Jones Road, Raleigh (directions).
Alumnus John O'Neill (BS '96) will provide the keynote address. O'Neill is the CEO and founder of Spark Plug Games, a leading independent games developer creating games and educational products for Windows, Macintosh, and the iPhone market.
Prior to establishing Spark Plug Games, O'Neill was the director of business development for Vicious Cycle Software and responsible for the cutting-edge middleware solution, the Vicious Engine. John was responsible for managing the Vicious Engine brand and built strategic relationships between developers and publishers alike. He also drove the internal focus for the Vicious Engine technology as it applied to client needs, negotiated contracts and license sales, and directed marketing and public relations engagements.
O'Neill earned his Bachelor of Science degree in Computer Science from NC State University in 1996, and he remains actively involved with the department. He is a member of the Computer Science Department's Strategic Advisory Board, and regularly speaks to students in gaming classes. His company, Spark Plug Games, is a valued ePartner with the department and a regular sponor of the year end Game Development Showcase.
Approximately 145 graduates are expected to receive their degrees during the ceremony.
Our special thanks go to the NC State Engineering Foundation, and the ePartners Program for their generous sponsorship of this event.
For the convenience of guests who might require overnight accommodations, there are a number of hotels located in the immediate area. For more information, click here.
NOTE TO GRADUATES: The first two rows of seats will be reserved for family and friends who wish to take photos of their graduate as he/she receives her diploma. But please know that as each graduate is handed his/her diploma, a professional photographer will take his/her picture. A free color proof will be sent to each graduate's current mailing address, including a password for online viewing. There is no obligation to purchase prints. To receive email notification when photos are online, please visit www.photospecialties.com to pre-register. If a proof is not received within a week of the ceremony, please contact info@photospecialties.com or call 1-800-722-7033.

In addition, Hope Community Church provides ample free parking, comfortable accommodations, and professional AV capabilities allowing for live broadcast of the ceremony from multiple camera angles. DVDs of the ceremony are available for a nominal $25 processing fee (click here for order form).
~coates~
Return To News Homepage