CSC News
April 12, 2010
Senior Design Center's "Posters & Pies" to be held on April 30th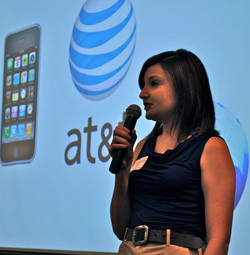 The public is cordially invited to attend the NC State Department of Computer Science Senior Design Center "Posters & Pies" event on Friday, April 30, from 10:40 am - 1:00 pm.
Project presentations will be held 10:40 am - 11:30 am in Engineering Building 2 (EB2) room 1025 on NC State's award-winning Centennial Campus. Posters and demonstrations will be displayed 11:30 am - 1:00 pm in rooms 3001 & 3002 in EB2. Lunch (pizzas and dessert pies) will be provided.
The event is sponsored by Super ePartners, Duke Energy, and Tekelec, and ePartner Pantry/Kangaroo.
This semester, the sponsors and projects are as follows:
· AT&T – Redesign of Login Toolbar
· Cisco – Web Widgets for IP Phone
· CleanBit Systems, Inc. – GreenLOGO – Minimizing Your Energy Consumption
· DataFlux – Enhanced Version Control Management
· Duke Energy – Mobile Administrator
· EMC – SplinterShell – Stress Test Modification Tool
· First Citizens Bank – IT Infrastructure Management & Visualization Tool
· Johns Hopkins University/Applied Physics Laboratory – Spear Phishing Prevention with Streams Analysis
· Microsoft – Hyper-V Performance Characterization of Linux Virtual Machines
· Network Appliance, Inc. – Performance Analysis of iSCSI, iSCSI-TOE & iSER
· NC Department of Justice – Human Resources Database Design
· Northrop Grumman – Ant Colony Optimization & Applications to Autonomous Vehicle Operation
· Roundarch – SVN Spy
· SAS Contact – Bringing Graphics to Your Fingertips
· Stella Nova – Android Mobile Retail Application
· Thomson Reuters-Healthcare – GUI for SQL Pretty Printer
· TransLoc – Transit Data Cleaner
If you plan to attend, please register online at http://www.csc.ncsu.edu/rsvp/posters-pies/ by Tuesday, April 27, so that we may properly plan for food & refreshments.
The media is welcome to this event.
Senior Design Center contact:
Dr. Robert Fornaro, (919) 515-7848, fornaro@csc.ncsu.edu
Media & Corporate Partnership contact:
Ken Tate, (919) 513-4292, tate@csc.ncsu.edu
~coates~
Return To News Homepage