CSC News
April 07, 2010
Meneely Wins ACM Student Research Competition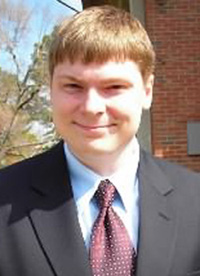 Andy Meneely, a doctoral candidate in the Computer Science Department at NC State University, won first place the poster and presentation portion of the ACM Student Research Competition at the 41st ACM Technical Symposium on Computer Science Education (SIGCSE 2010). The event was held on March 10-13, 2010 in Milwaukee, WI.
He is now eligible to participate in the ACM Student Research Competition Grand Finals in the coming months.
Meneely's research on Developer Collaboration and Software Security examines the statistical relationships between how teams of developers collaborate and software security. Behind every piece of software is a team of people. In large software development projects, no single person can possibly know every aspect of the system, so the team must self-organize into various structures of communication and coordination. Lack of team cohesion, miscommunications, and misguided effort can lead to all kinds of problems, including security vulnerabilities. His research focuses on the statistical relationships between development team structure and security vulnerabilities.
Meneely is advised by Dr. Laurie Williams, associate professor of computer science at NC State.
~coates~
Return To News Homepage