Computer Science eNewsletter
Below is department related news, gathered from a variety of sources across campus, provided monthly for alumni, students, and friends of the Department of Computer Science at NC State University.
If you are a CSC alum and wish to be added to the email distribution list, click here. Corporate or individual friends of the department may be added to our distribution list by sending an email request to Ken Tate, Director of Development & External Relations for the NCSU Department of Computer Science.

---
June 30 , 2009
Department Hosts Congressman Bob Etheridge and Healthcare IT Forum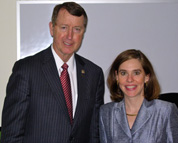 The Computer Science Department at NC State University welcomed US Rep. Bob Etheridge (D-Lillington, pictured with Dr. Annie Antón), the only North Carolina member on the House Ways and Means Committee, to campus for a Healthcare Information Technology (IT) Business Forum on June 1, 2009. The Forum included presentations from members of the medical community and others involved in research and development of solutions to healthcare IT issues. more
Ready to Lead
After a long, distinguished career in higher education, Jim Woodward found himself quite comfortable in retirement – a career choice that allowed the former UNC-Charlotte chancellor an opportunity to relax the days away (sans jacket and tie, of course) with his wife, Martha, and their new puppy. Then came a Sunday afternoon phone call from UNC system president Erskine Bowles, who asked if Woodward – an Air Force veteran who served as an assistant professor in NC State's College of Engineering from 1968-69 – would be interested in returning to campus as the university's chancellor. more
NC State Recognized as a 2009 Laureate for Cloud Computing Services
The Computerworld Honors Program recognized NC State University as a 2009 Laureate in the Educations category for its VCL-based Cloud Computing Services case study in a medal ceremony in Washington, D.C., on June 1, 2009. Dr. Mladen Vouk, professor, computer science department head, and associate vice provost for information technology at NC State, accepted the medal on behalf of the university. more
Faculty Promotions Announced
The Department of Computer Science at NC State University is pleased to announce a number faculty promotions, effective August 16, 2009. Drs. James Lester and Injong Rhee are promoted to Full Professor. Drs. Xiaosong Ma and Ting Yu are promoted to Associate Professor. And Drs. Nagiza Samatova and Ben Watson are promoted to Associate Professor with tenure. more
Lonnie Poole Golf Course on Centennial Campus Now Open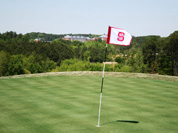 NC State's long-awaited Lonnie Poole Golf Course on Centennial Campus is now partially open! The Arnold Palmer-designed course opens to the public on July 11th. Faculty, staff, students and affiliates (including employees of Centennial Campus organizations) can take advantage of special rates (be sure to bring your NC State University All Campus card). Details on tee times, rates and course information can be found here.
Zimmer Receives "Best Presentation Award" at FREEDM Annual Conference
Congratulations to Chris Zimmer, computer science doctoral student, who received the "Best Presentation Award" for his talk and paper entitled, "The FREEDM Architecture of Fault Tolerant Network Routing Through Software Overlays" at the Future Renewable Electric Energy Delivery and Management (FREEDM) Systems Center Annual Conference. The paper was co-authored by his advisor, Dr. Frank Mueller. more
NC State students develop educational video game, "Blackbeard's Escape"
Students in computer science and industrial design at North Carolina State University have developed a game that lets kids experience history anew in "Blackbeard's Escape." The game is fun way for kids to learn about the Queen Anne's Revenge, Blackbeard's flagship which ran aground off the North Carolina coast in 1718. Players of "Blackbeard's Escape" are able to experience the action of interactive ship battles through flashbacks to the 1700s, learn about good diving practices, and explore artifact recovery and conservation. more
Departmental Research Grants, Gifts, and Support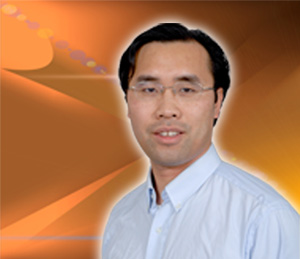 Dr. Tao Xie (right) has been awarded a prestigious Faculty Early Career Development (CAREER) Award by the National Science Foundation (NSF). This award, valued at $425,000, supports his proposal "Cooperative Developer Testing with Test Intentions". He becomes the 19th NSF CAREER Award winner for the Department of Computer Science at NC State! more
OPNET Technologies provided software licenses to our department for use in the classrooms and labs during the 2008-09 academic year valued in excess of $4.8M.
ARM, Inc. has donated multi-core boards valued at $16,500 to support Dr. Frank Mueller's research and teaching efforts in multi-core environments. They also provided software licenses for use in the classrooms and labs valued at $10,750. more
The Triangle Game Initiative has made a $7,401 unrestricted cash award to support Dr. R. Michael Young in the area of economic impact research related to the gaming industry in North Carolina.
The Raleigh Chapter of Information Systems Security Association (ISSA) has made a donation of $2,000 to be awarded during the 2009-10 academic year in the name to the Charles W. Kelly / ISSA Scholarship Endowment.
Mr. & Mrs. Tony Brown have donated $1,000 to the department to be used as scholarship funds for the 2009-10 academic year.
Drs. George Rouskas, Laurie Williams, Tao Xie and James Lester have received National Science Foundation (NSF) Research Experience for Undergraduate Students (REU) supplements totaling almost $64,000. more
CSC Faculty / Staff News
Dr. Edward Davis, professor of computer science, completed his phased-retirement period effective June 30, 2009, and has been named Professor Emeritus. more
Dr. Purush Iyer, professor of computer science who has been with the department since 1992, resigned effective June 30th, 2009. Iyer has been on a leave of absence, working at the Army Research Office (ARO) since February 2008, where he has accepted a permanent position as a Program Manager. He will remain associated with the department as an Adjunct Professor.
Congratulations to Dr. William J. Stewart, professor of computer science at NC State University, for having his book entitled Probability, Markov Chains, Queues, and Simulation: The Mathematical Basis of Performance Modeling, published by Princeton University Press. more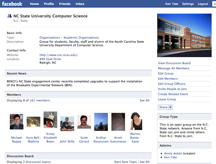 Department Pages on Facebook and LinkedIn
Alumni, students, faculty, staff, and corporate partners of the NC State Department of Computer Science, interested in networking to foster collaboration, entrepreneurship, partnerships, career development and professional growth are invited to join the department's pages on Facebook and LinkedIn.
CSC "Jobs List"
If you are a CSC student or alum and would like to receive an automatic email notice whenever new postings are activated on the CSC online jobs board, you are invited to subscribe to the cscjobs list. We may also use the list to announce career fairs, company campus visits & info sessions, and other career related events and activities. This is an "opt-in" list, so you must subscribe to receive the notices. Students can subscribe via the Subscribe Interface at http://lists.ncsu.edu/cgi-bin/mj_wwwusr (type cscjobs in the Mailing List box and press Search) or by sending an email to: mj2@lists.ncsu.edu (leave Subject Line blank), in the body of the message type subscribe cscjobs, and then send your message. For more information about subscribing please check http://lists.ncsu.edu/.