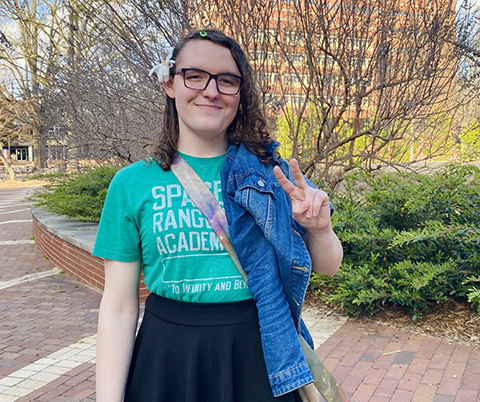 Pepper Wingerd-Felan
Hometown:
Carolina Shores, NC
High School:
Brunswick County Early College High School
Activities:
Video games, Dungeons and Dragons, Board games
Awards & Honors:
CyberCorps: Scholarship for Service
Anticipated Graduation Date:
May 2023
What I plan to do after graduation:
I am about to start an internship with the Department of Homeland Security and have plans to work with a state government agency after graduating next year.
Why I Love Computer Science:
While I was growing up, my mom introduced me to using computers and how to troubleshoot them. I figuring out issues with computers and felt a lot of satisfaction when I could get something to work right. As I got older, I decided I wanted to learn more about how they worked so I looked into computer science and how I could work in the field. This led me to my first programming class, where I learned that problem solving was the primary skill required for being successful in computer science. Similarly to how I enjoyed the problem solving involved in troubleshooting computers, I enjoyed the problem solving that came with working on programming and broader computer science problems as well.
Email Pepper