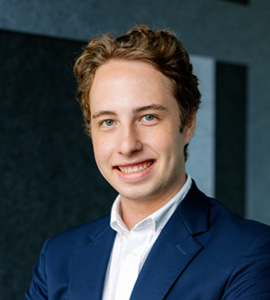 Myles Gregor
Hometown:
Raleigh, NC
High School:
Enloe High School
Activities:
NC State Hillel, Cycling, Technical Theatre, Ping Pong
Awards & Honors:
Dean's List, University Scholars Program
Anticipated Graduation Date:
May 2024
What I plan to do after graduation:
I have interned with Fidelity Investments and plan on pursuing a career in technical project management.
Why I Love Computer Science:
Computer science is an amazing field that is applicable to everything we do in our daily lives. More specifically, I love computer science because of the logical thought process behind the programming that really makes you think and break each problem down. CSC is all about making a computer go from point A to point B and the computational thinking that drives that process. Additionally, the tools I learn now will prepare me for anything I want to do in the future by giving me the tools I need to succeed. Currently, I want to utilize these tools and apply them to project management within the software engineering field.
Email Myles