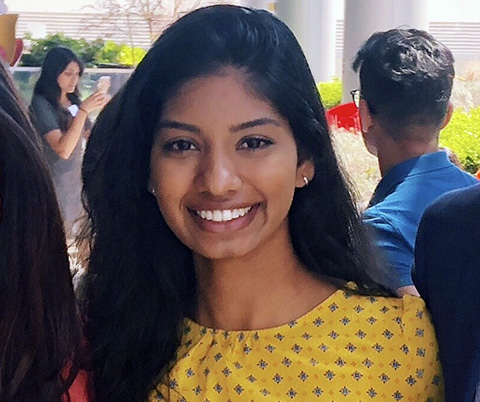 Anisha Ponnapati
Hometown:
Charlotte, NC
High School:
Ardrey Kell High School
Activities:
Swimming, Girl Scouts, Member of WiCS
Awards & Honors:
Dean's List, Silver Presidential Volunteer Service Award, Girl Scout
Anticipated Graduation Date:
May 2021
What I plan to do after graduation:
I have interned with Fidelity and am hoping to explore and pursue a career in Data Science.
Why I Love Computer Science:
I initially chose Computer Science as my major on a whim, however, after taking classes and being exposed to the field, I have come to truly enjoy it. My first computer science class gave me a glimpse of all the possibilities and ideas that could be explored through this major and how the major provides you with the tools to combine your passion with your work so you can create a meaningful impact. In the past two years, computer science hasn't just challenged me academically, but it helped me discover characteristics and parts of myself that I did not know I possessed and it played a very significant role in my professional and personal growth.
Email Anisha