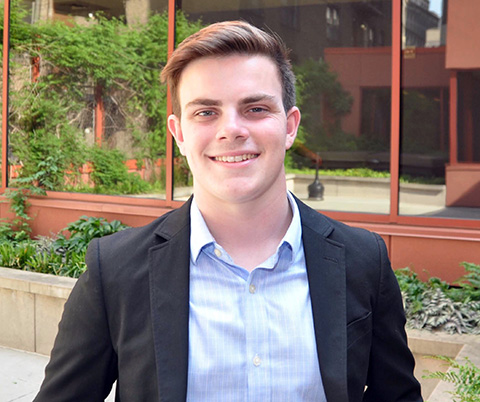 Christopher 'Crys' Blackey
Hometown:
Charlotte, NC
High School:
North Mecklenburg High School
Activities:
CSC Undergraduate Research, Green Greeks, Sigma Phi Epsilon Fraternity, Intramural Softball, Skiing
Awards & Honors:
University Provost Scholar, Poole College of Management Dean's Merit Scholar, University Scholars Program; Dean's List
Anticipated Graduation Date:
May 2021
What I plan to do after graduation:
I plan to pursue a career in software engineering or product management.
Why I Love Computer Science:
I initially came to NC State as an Economics major in the Poole College of Management. I knew that I wanted to study in a field that required lots of math. I knew NC State would provide lots of opportunities to pursue other interests as well, so I decided to try out the introductory Java course. I really enjoyed the course and could not help but to think of all the ways I could apply the skills that I would learn while studying Computer Science. I decided to add a second major in Computer Science. While the process to add another major in a different college was not easy, it was completely worth it. Each semester, I fall in love with Computer Science even more as I am exposed to new concepts and applications. More specifically at NC State, the staff is always looking for ways to improve the courses and as a student, that makes a big difference.
Email Christopher 'Crys'